This three-dimensional model of the Cardinals' home field is the most realistic replica of the current St. Louis ballpark that you'll ever see.

The impressive detail is the result of using actual images of Busch Stadium that are applied onto different depths of die cut wood panels, which are responsible for the 3D effect. The thin panels of wood are shaped to the stadium's various specifications and a precision cut photo is placed on each piece before they are permanently glued together to make a very vivid model, which has an interesting to read fact-filled history of Busch Stadium on its backside.

Small in size but big league in coolness and realism, the approximately 9" x 4" Busch Stadium model looks great from up close and is designed in such a way that it appears to be a 360-degree replica when viewed from about 4 feet.
Buy with major credit cards at CCNow



Shipping: USPS Priority Mail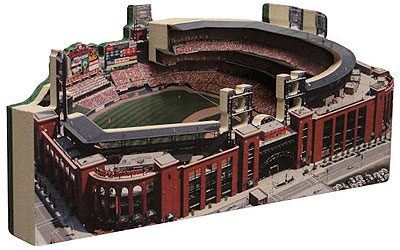 [ View larger image ]

Ballpark Model Specs & Details
Size: 8.8" wide x 4" high x 1.125" deep
Weight: 13 oz.

* Stands upright on its own
* Write-up of the ballpark's history and unique features are on the back
* Comes wrapped in team-colored tissue paper inside a custom-fit box
* Fully made in the USA by Home Fields
Display Case for Busch Stadium Model
The custom-made display case protects the model and magnifies its 3D effect. The ballpark is centered on the black texturized composite base, which has grooves in it that the clear acrylic top fits into. Felt dots on the backside of the base keep it from scratching surfaces or sliding.

Size: 12" L x 3.7" W for the base and 9.8" W x 5.25" H x 2.2" D for the acrylic case
Buy with major credit cards at CCNow



Shipping: USPS Priority Mail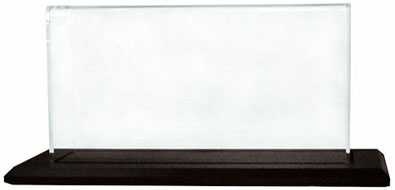 [ see a ballpark model in display case example ]