The four ballparks used to host National League baseball in the city of St. Louis are featured in this 7" x 21" poster. Produced by stadium historian and professional illustrator Jeff Suntala, each ballpark was heavily researched to ensure its accuracy and contains a caption beneath it. The result is a vivid historical timeline of the ballparks used by the Cardinals since 1893.

Poster Info


7" tall by 21" wide unframed poster printed on 100 lb. cover stock
Features illustrations of Robinson Field, Sportsman's Park, and the original and new Busch Stadiums
To pay with major credit cards



Shipping: USPS First-Class Mail

Each of the four ballparks contains a caption beneath them about their history. This is what those captions say:
ROBINSON FIELD
1893-1920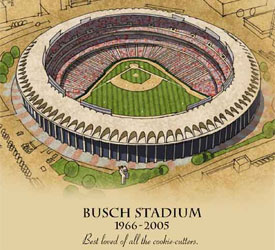 Fires plagued the site six times in the first ten years.
SPORTSMAN'S PARK
1920-1966
The Cardinals went from being tenants to landlords.
BUSCH STADIUM
1966-2005
Best loved of all the cookie-cutters.
NEW BUSCH STADIUM
2006
Thoughtful urban planning becomes a reality.