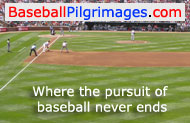 I am using these criteria for my picks:
Ease to get to stadium: parking, public transportation, etc. We tend to get to the park at least two hours before the game so driving in is not usually bad for us.
Site lines of field from all angles of seats in the stadium: cheap seats and quirky little areas where you might watch the game from, like standing room, restaurants, balconies and such.
Atmosphere: location, downtown, on the water, domed or not.
Hometown fans behavior: are they into the game or just there to get drunk and be seen?
Food: hot dogs, peanuts and beer are all that is needed but regional favorites and specialties are also fun to try.
Restrooms: since my wife has attended almost all of these games with me this rates big on her list.

My 5 favorite Major League ballparks:

Turner Field


Atlanta Braves
Best all around experience. I do not see this on any of the folks who have Web sites for this kind of stuff, but we enjoyed it so much we have gone back a few times. Easy to get into and out of for the inner city. No direct MARTA line (Atlanta's public transit) but good interstate access. The entrance with all the food courts and stuff for kids to do is a good reason to get to the park early. Standing way up over the left field foul pole on Coca-Cola Sky Field is a great site line. The food is better than most ballparks and the turkey sandwich with cranberry sauce is a great change from hot dogs. You do have a lot of fans who are just there for the socializing and stand out in the entrance mall and never see any of the game live. The rest of the fans seem to be a little laid back, maybe even complacent, but that is better than the drunks at Yankee Stadium.

AT&T Park


San Francisco Giants
Best location when the weather is good. We have been here twice, once for the 5th game played there in April the year it opened. It was so cold and nasty it was not fun. As Mark Twain said, ďThe coldest winter I ever spent was a summer in San Francisco.Ē We went back this summer and the weather was better. Parking is not so bad considering it is near downtown. Public transportation is great. From the upper deck there are great views of the bay and such. Great site lines from all parts of the outfield. McCovey Cove standing room is fun for a few innings. Food is great, maybe the best of all parks, but if you donít like garlic the Gilroy garlic fries can be overpowering. The smell permeates over the whole stadium and if the person next to you gets them you may have to move in self-defense. My wife really liked the Dungeness crab sandwich. The fans love their Barry Bonds and they let him know it.

PNC Park


Pittsburgh Pirates
A great overall experience. Parking was easy. We did not buy tickets ahead of time so when we were at the ticket booth around two hours before the game the seller asked if we had a coupon from one of the local grocery chains. We did not so he had extras and let us have two $20 tickets for the price of one. The view of downtown and the bridges is great and I like the light colored bricks they used in building the stadium. Good seating with the nice river walk area in right field. Lots of regional foods. We tried the Primanti Brothers sandwich. The locals love them but we found it to be a little too much. The Quaker Steak and Lube, another local food chain, had a great hamburger though. Fans seem to really get into the game, even when the Pirates are losing.

Miller Park


Milwaukee Brewers
The best all-weather park of them all. Easy to get into parking lot right off the interstate. The only field that has tailgating down to a science, you can have a great brat and a beer before you even go in the gate. We sat in the second tier of seats, right under Bob Uecker's broadcast site, and we could hear him the whole game. Since it was raining and they had the roof closed we spent a few innings out in the upper deck area of left field near the windows, enjoying that great site line. Milwaukee brats: need we say more about the food? We saw a game against the Cubs so lots of fans were rooting for the visitors, but all done in good taste. The locals were not obnoxious like they are at Yankee Stadium.

Kauffman Stadium


Kansas City Royals
Hometown team so I have to put it on the list. A classic for a park built when they were building stadiums like Three Rivers and such. I have not lived in KC for almost 40 years but whenever I am back visiting I have to see a game here. Very easy in and out parking. Locals complain about the $9 parking fee but they donít realize how much is charged at other stadiums, where it can be three times that. Not too many unique places to see the game from. The upper deck is steep but it's fun to get up there for a few innings. The fountains in the outfield are one of a kind. KC BBQ is the best in the world. Fans sometimes are hard to find but those who do show up are a loyal group. This past July when I was there for a Yankees game there were as many Damn Yankees fans as Royals fans but no one got overheated and it was a good time.
---
Terry Jenkins is a high school teacher in Virginia Beach, Virginia. He has seen a game in each of the 30 present day Major League ballparks and another 10 MLB parks that have since been replaced. He has also seen games in 120 minor league ballparks.