A baseball season is a long 162-game journey, which makes it hard to imagine that a single game every April can inspire so much anticipation among fans in every Major League city.
Yet every spring the unofficial holiday known as Opening Day captures the imagination of fans in markets large and small. Itís the one game where no promotion is needed to fill the stands.
To borrow some clichťs, every team gets to start anew while wiping the previous seasonís slate clean. Whether youíre a fan of the Yankees or Devil Rays, optimism runs rampant among the locales on Opening Day.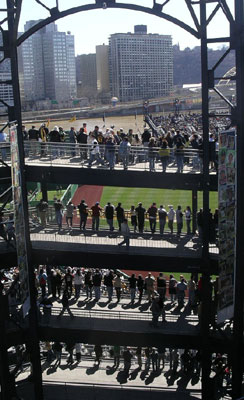 For many fans the home opener will be the only game they attend during the season and the outcome of that game will be their main impression for the home teamís success over the course of the year.
Each team's home opener is also a game where unused tickets from season ticket holders and corporate accounts are kept to a minimum.
The first game is an event, a spectacle unlike any other sport. It marks the end of winter and the hot stove league, and for most teams itís the first game that has mattered in 6 months.
Growing up in the 1980ís, my family always went to Opening Day, first at Three Rivers Stadium in Pittsburgh and later at Fulton County Stadium after our move to Atlanta. In those days both teams stunk and that first game of the year was the only chance at excitement for the local baseball fan.
In the past few years Iíve seen a couple of openers at Tropicana Field, but for the most part the annual tradition of going to Opening Day has evaporated, despite my increased involvement in the game and attendance at numerous ballparks near and far.
As a kid Opening Day was about the only game I went to. Now I attend dozens of games a year but Opening Day is a game I usually miss.
For the 2005 season I decided to revive the ritual from the days when I fell in love with baseball. I would attend an Opening Day ballgame - not just a home opener - and I would do so in the city where I had witnessed my first Opening Day, making the pilgrimage north from my home in Atlanta to Pittsburgh.
I could have gone to Opening Day anywhere. Conventional baseball wisdom says Opening Day Mecca is in Cincinnati, home of baseballís oldest franchise. As a diehard Red Sox fan there is no doubt Iíd fancy the home opener at Fenway, and the atmosphere at Wrigley is a unique draw year round.
But it was Pittsburgh, home of the Pirates and picturesque PNC Park, where I believed I could best get the feel for the splendor of Opening Day. You can experience the energy and passion at Fenway or Wrigley on any game day, but in Pittsburgh the pageantry and pizzazz really only strikes once a year.
When your team has had 12 losing seasons in a row, as has your opponent Ė the equally hapless Milwaukee BrewersĖ itís hard to say that this one game is on ever par with the remaining 161.
For the most part, the Pirates biggest drawing card is their ballpark. In a column written the day before the opener, Bob Smizik of the Pittsburgh-Post Gazette noted, ďBy itself, PNC Park remains a reason to buy tickets. Itís a marvel, the best baseball stadium in the country. Itís charm never fades.Ē
I would generally concur with Smizik. PNC Park is amazing. Iíve been to a few games there prior to my Opening Day visit and can say without a doubt that no stadium in this country takes better advantage of its surroundings. The three rivers and downtown buildings are captured in all of their glory. The rotunda in left field is unmatched at the Major League level.
Yes, PNC Park by itself is worth a visit to Pittsburgh. But thatís not what brought out a sellout crowd of 38,016 to watch the Pirates and Brewers on April 4, 2005.
Opening Day means hope. It means freshly painted logos on the grass, new bunting hanging over the ballparkís faÁade, and passing out magnetic schedules at the gate. Itís live local television and radio remotes and long lines at the concessions stands in the upper deck Ė the ones that arenít open for most games (firework nights are exceptions).
Iím pretty sure youíll see more fans wear the home teamís apparel than any other game of the year. Itís the only time outside of the playoffs where entire rosters, even assistant trainers and video coordinators, are announced before the home fans, each trotting out from the dugout to line up on the baselines. And you can rest assured that if anybody local ever won a Grammy or performed on Broadway theyíll be singing the National Anthem.
But above all, Opening Day means that baseball is back from its hibernation.
I woke up in Atlanta and caught an early flight to Pittsburgh, where I rented a car and drove to the North Shore, opposite of PNC Park on the Allegheny River. I parked, paid $8 for a round trip ticket on the Gateway Clipper and arrived by ferry nearly an hour before first pitch.
By then tickets available had been reduced to singles and standing room only. The upper deck had already been sold out. Baseball fever was in the air, even though the day before that same air had brought three inches of snow to the metropolitan area.
The snow had mostly melted away by game day, and when the first pitch was thrown at 1:39 it was a sun-drenched 57 degrees.
The Pirates have had a lot of experience with home openers, 118 prior to their game against Milwaukee. They had won 63 and lost 55.
Iíd like to report that the 2005 Pirates got off to a good start, that I saw some promise and potential in Pittsburgh on Opening Day. But the game was over by the sixth. The Brewers pounded the Bucs 9-2 behind seven strong innings from Ben Sheets and a two-run homer by Jeff Cirillo.
Driving back to the airport after the game, I was listening to a call-in show on the Pirates flagship radio station, KDKA 1020 AM.
There were the usual calls for the managerís head Ė after just one game! Ė and despite what transpired on the field, one of the last callers I heard expressed what Opening Day means to the true baseball fan: optimism.
This caller believed the Pirates would win 85 games in 2005 and he would attend as many games in PNC Park as he could.
Thatís the great thing about baseball. One game doesnít make a season and thereís usually another game tomorrow.
In most venues, that next game wonít have the energy or attendance that a home opener brings, but thatís what makes that first game so special, the must-see sneak preview of an entire season that it has always been.
Opening Day is a baseball fanís Christmas, a game where eleven of our nationís Presidents have shown up to throw out the ceremonial first pitch.
In other words, itís more than just one game of 162, especially in places like Pittsburgh.