With the first year of a new decade officially upon us, baseball fans have some special treats to look forward to on the calendar in 2010, a year that the United Nations has designated as the International Year of Youth.
In the United States, no sport brings back more fond memories of youth for a sports-mad nation than America's pastime, as baseball has been played and often simultaneously watched by generations of folks in cities, towns, boroughs and villages throughout each and every state for as long as most states have actually been states.
In a county where millions watch a ball drop to begin the year, millions more will watch a ball thrown, hit and caught over the course of 2010. The best places to do so are woven into the list below, which details the top ten baseball pilgrimages a fan can make during the upcoming season.

# 10 - TEN TURN TEN IN '10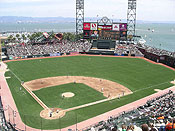 Three major league ballparks and seven in the minors will celebrate their 10th anniversary in 2010. In the majors, modern marvels opened in Detroit, Houston and San Francisco in 2000, while the current minor league ballparks that have reached their first double-digit longevity milestone are found in Chattanooga, Dayton, Kodak (TN), Louisville, Memphis, Round Rock (TX) and Sacramento. Given the year, it's fitting that ten ballparks turn 10-years old. Given their geographic disbursement, fans should be able to visit at least one of the first generation of 21st century ballparks during the season that commemorates their first decade of service.


The 10 Ballparks
# 9 - DINE AND DRINK AT HARRY THE K'S WHILE YOU STILL CAN
Philadelphia, PA
For 38 years, Harry Kalas was a fixture in the Phillies' broadcast booth. Out in left field, the bar and grille featuring his nickname and occupation has been a popular destination within Philadelphia's Citizens Bank Park since both opened in 2004. But 2010 could be the final year for Harry the K's Broadcast Bar & Grille, as the generous-to-the-team licensing agreement for usage of the Hall of Fame announcer's name and likeness expires at the end of the season, which would've been Kalas' 40th with the Phillies had he not passed away in the press box prior to a game at Nationals Park on April 13, 2009. Following Kalas' death, the ability to negotiate deals on his behalf fell to his widow, Eileen, who is seeking much better financial terms than the $1,000 a year plus a percentage of sales that Harry received from "his" restaurant, which Eileen Kalas claims was originally her idea. She has lawyered up and even though the Phils "want the naming to continue indefinitely," it remains to be seen whether attorney, client & team can reach a deal to ensure that Harry's signature chili will still be served at Citizens Bank Park's signature restaurant in 2011.
# 8 - WATCH FLYING SQUIRRELS DO THEIR THING AT A RENOVATED DIAMOND
Richmond, VA
Baseball returns to the capital of the Commonwealth of Virginia in 2010 with a team named the Richmond Flying Squirrels. After a year sans the sport following the Triple-A Richmond Braves' move to Gwinnett County in Georgia, baseball of the Double-A variety will be played at a place where it sounds like it should be played: The Diamond, a 1985-built 12,134-seat stadium on the northwest outskirts of the city. Although it will be the second oldest ballpark in the 12-team Eastern League, The Diamond will be born again in '10 thanks to $1.5 million of renovations paid for by Flying Squirrels ownership. Long filled with shaped aluminum benches with backrests, the stadium's lower bowl will now contain 3,200 plastic box seats, each painted dark green with a cup holder attached. Concession stands are being completely redone, their fare upgraded and what was once a restaurant will be transformed into one of the largest souvenir shops in the minor leagues. All of this will make The Diamond a much better Double-A park than it was a Triple-A park, although its lifespan as a minor league venue might be limited as the Flying Squirrels signed only a 2-year lease to play at the quarter of a century old ballpark. Talk in town had centered around building a new diamond as part of a $350 million mixed-use development in the Shockoe Bottom neighborhood, but the plug was pulled on that plan last summer. So, "for the time being, this is our home," Flying Squirrels primary owner Lou DiBella said of The Diamond when he announced his team would move to Richmond following 14 years spent in Norwich, CT.
# 7 - BE THERE ON OPENING DAY
April 5 at 13 ballparks in 10 states and DC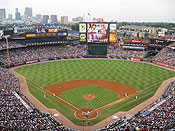 There's nothing in sports like the spectacle of baseball's Opening Day, which this year takes place on Monday, April 5. Sure the other home openers are great, but the 13 that take place on the actual first official day of the season are special. So fans in these cities should consider themselves lucky this year: Anaheim, Arlington (Texas), Atlanta, Chicago (White Sox), Cincinnati (as always), Houston, Kansas City, Milwaukee, New York (Mets), Oakland, Phoenix, Pittsburgh and Washington DC. In the "oh so close but not quite the same" category, the fanatics in Boston actually get a jump start on the season by one day, while fans in Tampa Bay get to watch the only two teams without a win or loss play on April 6. But it's only the first full day of the season that qualifies for unofficial holiday status, so find a way to watch a pair of teams play on April 5th.


The 13 Ballparks
# 6 - AMERICA'S PASTIME VISITS AN AMERICAN TERRITORY
June 28-30 in San Juan, PR
Puerto Rico's Hiram Bithorn Stadium will be on the big league docket once again in 2010, as the Florida Marlins are moving a three-game summer series against the New York Mets to the Caribbean island nation of about four million residents, which became a United States colony in the aftermath of the 1898 Spanish–American War. The country's 489-year old capital city, San Juan, has hosted plenty of major league baseball in the 21st century at the 48-year old stadium named after the first Puerto Rican to play in the majors, former Chicago (Cubs and White Sox) pitcher Hiram Gabriel Bithorn. The bulk of those games were played in 2003 and 2004, when Hiram Bithorn Stadium was the part-time home of the Montreal Expos. Of the 44 games the Expos played in San Juan over those two seasons, six were against the Marlins, who will try to improve on their 5-1 record in the country that Marlins president David Samson referred to as a "home territory" for his team, even though 1,038 miles separates San Juan from Miami, where the Marlins will play their other 78 home games this season.
# 5 - SEE THE STARS (AND SUN) SHINE UPON MINNESOTA'S TARGET FIELD
Minneapolis, MN
The Twins' dome days are done and, for the first time ever, major league baseball will be played outdoors in Minneapolis, beginning on April 2 with the first of two exhibition games between the Twins and Cardinals at the roofless Target Field. Ten days later, the $544 million, 40,000-seat ballpark located at 1 Twins Way will make its true debut when the Red Sox and Twins play the first of 81 regular season games in Target Field's inaugural season. How many of those games will be postponed due to inclement weather remains to be seen, and the Metrodome's much maligned Teflon roof will surely be missed during Minnesota's often chilly Aprils and Octobers, which bookend months that average 4.13 inches of rainfall. The original plan called for Target Field to have a retractable roof, but nobody was willing to fund that part of the project. So rather than being the sixth major league venue to sport a convertible top, Target Field will become the first to boast of heated concourses. Said Twins president Dave St. Peter: "There are crummy days in April at Wrigley Field. There will be crummy days in April at Target Field. But there will be beautiful days, too." There should be lots of them, for Twins fans and all others who wish to see the majors' newest green cathedral.
# 4 - THE FINAL COLLEGE WORLD SERIES AT ROSENBLATT STADIUM
June 19 - 29/30 in Omaha, NE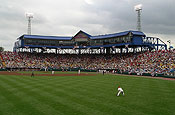 For the 61st and final time the "Road to Omaha" ends at Rosenblatt Stadium for the NCAA's eight top Division I baseball programs. After six decades of crowning college baseball's champion, the "Blatt" will be the site of a parking lot for Omaha's zoo in 2011. But before it's torn down, the 62-year old stadium gets to bask in the limelight of nationwide adulation for one final prolonged time, as the tournament it fostered from anonymity to prosperity gets underway on June 19 and continues through the end of the month. Sure, the Omaha Royals, Kansas City's Triple-A affiliate, will still be playing games there for a couple months afterwards, but it's the College World Series that made Rosenblatt what it is. That and its folksy, mostly residential location. Next year, the CWS will be played three miles north in downtown Omaha at a $128 million ballpark being built specifically for the week and a half event. Meanwhile, the O-Royals will move to neighboring Sarpy County, where a smaller and less expensive ($25 million) ballpark is being built just for them.
# 3 - THE FINAL SPRING TRAINING GAME AT THE BIRTHPLACE OF THE CACTUS LEAGUE
March 31 in Tucson, AZ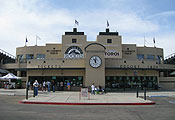 The Cactus League officially began on March 8, 1947 at Tucson's Randolph Park, where 4,934 fans watched the Cleveland Indians defeat the New York Giants 3-1. Four years later, Randolph Park was renamed in honor of Arizona state senator Hiram S. Corbett, who as president of the Tucson Baseball Commission was instrumental in bringing spring training to town. Hi Corbett the man died in 1967 but Hi Corbett the Field has been used for 63 consecutive spring trainings prior to 2010, a record for longevity that's in no danger of being broken any time soon. But the 64th season of spring training at Hi Corbett Field will be its swan song, as its tenant of 18 years, the Colorado Rockies, are leaving the only winter home the franchise has ever known for metro Phoenix, where a two-team complex is currently being built on tribal ground near Scottsdale. The Arizona Diamondbacks will be the Rockies' partners in 2011 and also their opponent in the Hi Corbett Field finale on the final day of March in 2010. On that mid-week afternoon, Tucson's sole remaining spring training teams will meet in what's also likely the final Cactus League game ever played in The Old Pueblo.
# 2 - DURHAM'S BULLS AND ATHLETIC PARK REUNITE FOR ONE NIGHT
May 10 in Durham, NC
Durham Athletic Park had a starring role in 1988's Bull Durham. Fifteen years later, Sports Illustrated ranked the film that also starred Kevin Costner as the greatest sports movie of all time, but by then the DAP, the acronym inspired nickname it's oft referred to by, hadn't hosted a non-fictional Durham Bulls game in almost a decade. Ironically, the popularity of the movie lead to crowds too big for the DAP to handle, so it was replaced by Durham Bulls Athletic Park (DBAP) in 1995. But the DAP shall host the Bulls once again in 2010, if only for a day (and actually a night) after the city of Durham spent $5 million to restore and renovate the historic ballpark, which is now operated on a daily basis by Minor League Baseball. A month after the park's grand re-opening last August, the Bulls announced they would return to their roots to play the Toledo Mud Hens in an International League game later scheduled for the evening (7:05) of Monday, May 10. "I am sure that having the Bulls play at the DAP will be an extremely enjoyable and nostalgic experience for fans and the City of Durham," the ballpark's manager, Jill Rusinko, said when the game was announced. There's no word yet on whether the game will turn into an annual classic, a la Rickwood, but the DAP's lights will be turned on plenty this season, the first in which North Carolina Central University will play its home games on the grounds of the 84-year old landmark. The Eagles of NCCU host 21 games at the DAP in 2010, starting against Iona on February 19 and ending with a doubleheader versus Campbell on May 1.
# 1 - CELEBRATE RICKWOOD FIELD'S CENTENNIAL SEASON AT ITS SIGNATURE EVENT
June 2 in Birmingham, AL
It has been 165 years since Alexander Cartwright first published rules to govern baseball. That's more than half way to a full two centuries ago and pro umpires will finally have a chance to enforce the sport's rules at a game in a century-old ballpark when Birmingham's revitalized Rickwood Field hosts its 15th annual Rickwood Classic on the first Wednesday afternoon in June. First pitch is set for half past Noon, and at that time Rickwood will become the first ever 100-year old ballpark to host a professional baseball game, as the Southern League's Birmingham Barons will play the Tennessee Smokies in a battle of Double-A Chicago affiliates at one of only two ballparks older than Chicago's Wrigley Field. The hometown Barons, who now play in the southern suburb of Hoover, will wear uniforms from the 1910 season in a tribute to their throwback ballpark, where they played regularly through 1987 and have returned annually since 1996. While the game is always special, this year's Classic is sure to be a true classic and is reason enough to schedule a trip to Alabama's largest city one day after it celebrates its 139th birthday.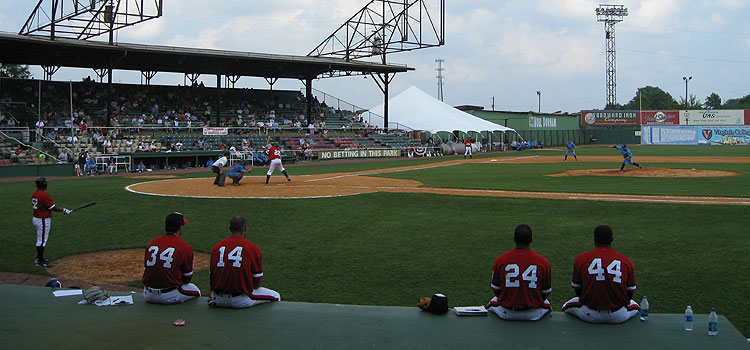 Rickwood Field was the minor leagues' first concrete and steel stadium when it opened in 1910. A century later, it will become the first 100-year old ballpark to host a professional baseball game, as the Birmingham landmark welcomes back the hometown Barons for the 15th annual Rickwood Classic on Wednesday, June 2. I rank the ballpark's centennial celebration game between the Birmingham Barons and Tennessee Smokies as the premiere baseball pilgrimage a fan can make in 2010. A scene from the 2009 Classic is shown here and captures part of what makes the annual game so special - players watching it from atop their dugout.