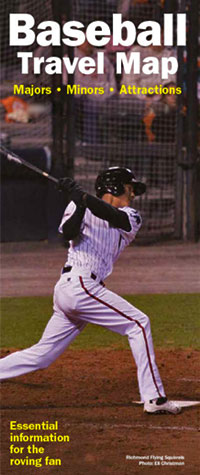 The 2017 Baseball Travel Map provides essential information for the roving fan. It shows the location of every professional team in the United States and Canada, along with numerous baseball attractions and museums, and has info about each destination on the map's back.

The map is laminated and UV coated for durability. It has six panels and folds up to a convenient size of 4¼" x 10¼". The map measures 25½" x 10¼" when unfolded.

Produced by Hedberg Maps, this map is the perfect companion for any baseball fan away from home!

The Baseball Travel Map includes:


A full color map of the United States, with an East Coast inset.
A reference guide that lists the ballpark name and map location for every major league team and their various minor league affiliates, plus 7 independent leagues.
66 places of interest for baseball fans, many of which are museums.
A cover photo of a Richmond Flying Squirrels (Giants affiliate) batter.
A moisture resistant laminate that enables it to withstand the rigors of travel.
To pay with major credit cards



Shipping: USPS First-Class Mail

Map Detail
The Baseball Travel Map has two sides. One contains a map showing the location of teams and baseball attractions. The other side has a complete listing of all the teams grouped by level and league, plus the website address for each of the non-ballpark (attractions) listings.
The combination of map and reference guide makes the Baseball Travel Map the ideal resource to plan any baseball road trip. In all, it shows where you'll find 284 teams (and their ballparks) plus 66 baseball museums, hall of fames and other historic sites.
This unique and useful map is made by Hedberg Maps, who published an up-to-date edition annually each spring from 1999 until 2012, after which they decided to discontinue it. However, it's a true back by popular demand item, as the Baseball Travel Map made a fully updated return in 2014 and the current edition was printed in the USA in May 2017.