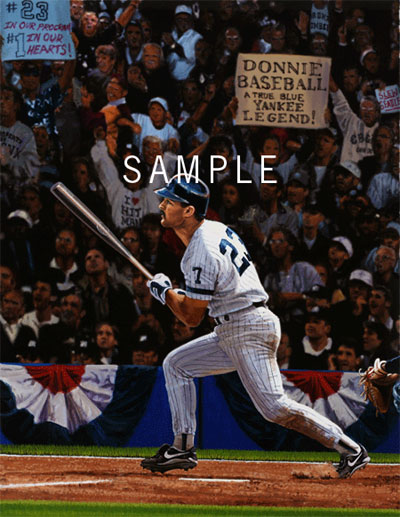 Don Mattingly Lithograph

Limited Edition Artwork by Bill Purdom
He was the pride of the Yankees when the team struggled through a 14-year playoff drought. A 19th round draft pick, Don Mattingly's tireless work ethic and passion for the game earned him the nickname "Donnie Baseball." Mattingly hit over .300 every year from 1984 through 1989 and was the American League MVP in 1985. But despite his personal achievements, Donnie Baseball seemed destined to be the greatest Yankee never to appear in the post-season.

Finally, in 1995, Mattingly would play in an October game that mattered, as his Yankees became the first AL team to win the newly created wild card. For the first time, the player often referred to as the "Hit Man" would appear in the playoffs.

The Yankees won the first game of their best of five series with the Seattle Mariners, and game 2, played on October 4th, turned out to be an epic battle. With the scored tied at two in bottom of the sixth inning, Mattingly, batting sixth in the order, stepped to the plate against Andy Benes.

With his adoring fans chanting his name, Mattingly drove this pitch deep into the right field bleachers to give the Yankees a 3-2 lead. Afterwards, a thunderous chant of "Don-nie Baseball" came cascading down from the Yankee Stadium stands. The chant seemed to last forever and cemented Mattingly's place as a true Yankee legend.

The Yankees wound up winning the second game in 15 innings, but lost three straight games in Seattle to lose the series. The homer captured in this lithograph turned out to be the last in Mattingly's career. He never played another game in Yankee Stadium.

Donnie Baseball retired at the end of the series, after hitting .417 in the only five post-season games of his career. Although he never won a ring while wearing pinstripes, Mattingly laid the groundwork for the World Champion Yankees teams to come, and the team paid him the ultimate honor by retiring his number 23 in 1997.
Size: 21½" x 16"

Only $165


Edition is sold out
623 Piece Limited Edition Print
Each print is hand signed and numbered by the artist. The lithograph was created in 2006.
About the Artist
Bill Purdom's art has been used by every major advertising agency in New York and he has painted over 75 great moments in baseball history. Lithographs of all of Purdom's ballpark paintings are a part of the permanent collection displayed at the Baseball Hall of Fame in Cooperstown.