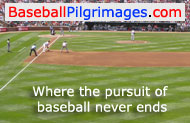 Baseball Pilgrimages
Ballpark Info
Directions
Seating Diagram
Tickets
Phone: 814-456-1300
Outfield Dimensions
LF: 312' CF: 400' RF: 328'


SeaWolves Info
Level: AA
League: Eastern
Affiliate: Detroit Tigers
2017 SeaWolves Schedule


Travel Info
Nearby Major Airports:
Erie International
(6.3 miles)

Cleveland Hopkins International
(114.6 miles)

Pittsburgh International
(139 miles)

Nearest Pro Ballparks:
Classic Park in Eastlake, OH (86.9 miles)

Eastwood Field in Niles, OH (92.1 miles)

Coca-Cola Field in Buffalo, NY
(95.3 miles)
Ballpark Attendance
Year
Total
Rank *
2015
2014
2013
2012
2011
2010
2009
2008
2007
2006
203,655
209,299
206,780
208,725
224,443
218,748
220,909
234,955
220,401
206,875
11
11
11
11
11
11
10
9
11
11
* The SeaWolves' total home attendance ranking in the 12-team Eastern League

---

Baseball Pilgrimages
Where the pursuit of baseball never ends.
[Site Map]
Jerry Uht Park Facts, Figures & Firsts
Construction cost: $9 million
Financing: Most of the tab was paid for by the Commonwealth of Pennsylvania, as $8 million in state funds were allocated from the capital budget to pay for construction. To cover architectural costs, the City of Erie, Erie County, and Team Erie, a 300-member citizens' group, each chipped in $300,000 apiece. Neighboring Millcreek Township also contributed $25,000.
Architects: Weber Murphy Fox and Lescher Mahoney Sports
Construction manager: Heery International
Groundbreaking date: July 27, 1994
Was built on the site of an old Sears building.
Located in downtown Erie and is directly adjacent to the Tullio Arena, which opened in 1983 and is generally referred to as the Erie Civic Center. Because of the arena's prior presence, the ballpark has a short porch in left field, as there's just 312 feet of space between home plate and the beginning of Civic Center property.
Had no official name when it opened, so the local press generally referred to it then as the "new downtown ballpark" and, in some cases, the "no-name ballpark."
Replaced Ainsworth Field, which opened in 1923 and still stands about 2½ miles southwest in a residential neighborhood where the old field is often used by amateur teams.
First game: The Erie SeaWolves beat the Jamestown Jammers, 3-2, on June 20, 1995 in front of 6,300 fans

Other ballpark firsts (all of which occurred on 6/20/95, unless noted):
| | | | | | | |
| --- | --- | --- | --- | --- | --- | --- |
| Pitch | Batter | Hit (single) | Home Run | Winning Pitcher | Losing Pitcher | Save (6/21) |
| Rayon Reid | Ricky Gray | Elton Pollock | Ricky Gray | Tim Collie | Bryan Corey | Tim Collie |