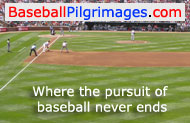 Baseball Pilgrimages
Coca-Cola Field Info
Directions
Seating Diagram
Tickets
Phone: 716-843-4373
Outfield Dimensions
LF: 325' CF: 404' RF: 325'


Bisons Info
Level: AAA
League: International
Affiliate: Toronto Blue Jays
2017 Bisons Schedule


Travel Info
Nearest Major Airport:
Buffalo Niagara International
(9.8 miles)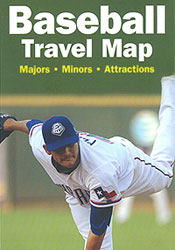 The Baseball Travel Map is one of many great items in our Baseball & Ballpark Store.
Ballpark Attendance
Year
Total
Rank *
2016
2015
2014
2013
2012
2011
2010
2009
2008
2007
2006
2005
2004
2003
2002
2001
2000
1999
1998
1997
1996
1995
1994
1993
1992
1991
1990
1989
1988
562,755
551,303
535,275
537,747
515,898
521,530
575,296
529,789
590,386
572,635
607,929
596,758
574,088
551,916
642,272
652,245
667,540
684,051
743,463
696,193
825,530
900,782
982,493
1,058,620
1,117,867
1,188,972
1,156,661
1,116,441
1,146,651
5
6
7
7
7
7
5
7
5
6
3
3
4
2
2
1
2
1
1
1
1
1
1
1
1
1
1
1
1
* Buffalo's total attendance ranking in the 8-team American Association (1988-97) and the 14-team International League (1998-2016)

---

Baseball Pilgrimages
Where the pursuit of baseball never ends.
[Site Map]
| | |
| --- | --- |
| Buffalo Bisons | Triple-A Affiliate of the Blue Jays |
Minor league baseball's biggest ballpark is in Buffalo and its had numerous names since it opened in downtown in 1988 as Pilot Field. Baltimore's Camden Yards gets all the credit for inspiring the modern breed of ballparks, but it's probably fair to say the now aging home of the Bisons is where the downtown retro trend actually began. Just like the Orioles' park, what's now called Coca-Cola Field was designed by HOK Sport (now known as Populous) and the 18,025-seat baseball-only stadium in Buffalo basically put the now world renowned Kansas City architectural firm on the map. They designed something that could be expanded to accommodate major league baseball, but Buffalo never got the expansion team the city sought. So that explains the supersized lower level grandstand and the numerous luxury suites on the club level. The place really does feel big. Colossal is what I thought when I first saw it, which is a far cry from the mostly intimate minor league parks that have been built since. While Buffalo's was a ballpark that truly defined state-of-the-art when it opened, it's now the second oldest in the 14-team International League and has the feel of a ballpark that opened long ago as much as one that spawned an era of unprecedented "green cathedral" building. Certainly transcendent for the time period in which it was constructed, the HOK model ballpark has been modified and improved upon elsewhere since the Bisons brought baseball downtown to Buffalo, where the tall building backdrop is fabulous behind the first and third base grandstands. But besides the location, the ballpark isn't all that retro, at least as defined by today's amenities also included standards. So there's no open concourses, berm or even a kids' play area. The big high-definition scoreboard -- at 80' wide by about 34' tall it's the minors biggest -- was added in 2011, but Coca-Cola Field remains more of a place to watch a ballgame than to be entertained by etceteras within its confines. So maybe that does make it truly retro after all.

Location and Parking
Coca-Cola Field is snuggly fit into the heart of downtown Buffalo, where it's wrapped around on three sides by busy city streets, framed from within by big buildings of the city's skyline, and is positioned just to the east of the Buffalo Sabres' arena and Lake Erie. Found at the corner of Washington (first base line) and Swan (third base line) streets, One HSBC Center tower is the most notable of the surrounding development. The 40-story skyscraper is easily the city's tallest and looms over the ballpark's first base grandstand. HSBC, the world's second-largest bank, has a major presence in Western New York and that includes the naming rights to the arena where the NHL's Sabres play. HSBC Arena is less than a mile away from Coca-Cola Field and its domed-shaped white roof is visible from much of the third base side grandstand. Reaching well above the third base grandstand is what appears to be the steeple or bell tower of a church, but is actually the 244 foot tower of the Old Post Office building, which hasn't been a post office since 1963 and was long ago transformed into a campus for Erie Community College.
Buffalo is the second most populated city in New York. Befitting of a big city ballpark, parking is mostly done in garages and there's also light rail service nearby, as the NFTA Metro Rail's Seneca station is just a block away. The best bet for parking is in the garage at the base of One HSBC Center, which is the cheapest ($3) and most convenient option for night and weekend games. During weekdays, the HSBC Center garage is reserved for monthly parkers but plenty of other options exist regardless, as a multi-story parking garage is directly behind right field and just beyond it parking is available underneath the highly elevated I-190 overpass. There's also surface street parking directly across from the home plate gate, but the spaces there are the most expensive in the area. It's the $10 exception to the you can park nearby for $5 rule.

Featured Photos

The Bisons' newest Big Board (left) debuted in 2011. The fully high-definition LED scoreboard is the minors' biggest, measuring roughly 80' wide x 34' tall. It replaced the 40' x 20' scoreboard that had been the largest in the minors when it was installed in 1999. The sea of red seats (right) that fill Coca-Cola Field are the originals but the ballpark's lighting system was completely updated before the 2011 season. Each light tower now contains a mere 14 energy-efficient bulbs, compared to the 48 bulbs per stanchion system that was replaced. Although the thin band of lights light the field just fine, most of the grandstand is dark at night.
Coca-Cola Field Facts, Figures & Footnotes
Construction cost: $43 million
Financing: The state of New York contributed $22 million while various other city, county and state sources paid for the bulk of the remainder.
Architect: HOK Sport
Construction manager: Cowper Construction Management
Groundbreaking took place on July 10, 1986.
Naming rights: Coca-Cola Bottling Co. of Buffalo agreed to pay an disclosed sum over the course of a 10-year deal that went info effect on January 1, 2009.
Was originally called Pilot Field, a name that lasted until March 2, 1995, when the city terminated its 20-year deal with Philadelphia-based Pilot Air Freight after they defaulted on the $51,000 yearly fee.
From March 3, 1995 through July 2, 1995, it was simply called The Downtown Ballpark. Starting on July 3, 1995 and ending on May 5, 1999, North AmeriCare Park was the name Buffalo's ballpark went by. On May 6, 1999 the name was again changed, this time to Dunn Tire Park, which lasted through 2008, when locally-based Dunn Tire opted not to renew the expiring 13-year agreement they had inherited from North American Administrators, who specialized in health care plans.
Has 18,025 fixed seats, all of which are painted red, but just a standing room capacity of 150.
Originally had a capacity of 19,500. The reduction to the present capacity of 18,175 was achieved by removing the bleacher sections that were in right field and replacing them with a much smaller four-tier party deck, which debuted in 2004.
Officially became the biggest ballpark in minor league baseball in 2011, following the 2010 closings of Omaha's Rosenblatt Stadium (24,000) and Portland's PGE Park (19,810).
Was designed to be expandable to a capacity of 45,000 in case a major league franchise either moved or was awarded to Buffalo through expansion. The city was one of six finalists under consideration by the National League Expansion Committee in 1991, but on June 10th of that year the committee chose Miami and Denver over Buffalo, Orlando, Tampa Bay and Washington DC. Buffalo was not one of the four finalists during MLB's next, and most recent, round of expansion, which resulted in franchises being awarded to Phoenix and Tampa Bay on March 9, 1995.
Both foul poles are orange, a nod to the Bisons' parent organization, the New York Mets, whose foul poles at Citi Field are orange, as were those at the Mets' previous home, Shea Stadium.
Although the distance down the left and right field lines has always been 325 feet, the outfield fence in the alleys and center field was moved in following the 1995 season. Originally 384' feet to both left- and right-center field, since 1996 it has been a slightly unsymmetrical 371' to left-center and 367' to right-center. The original distance to center field was shortened by 6' in '96 (from 410' to the present 404').
Upon the wall in left-center field are baseball-shaped markers that list the number and last name of the only three players in the franchise's long history (well over 100 years) to have their number retired by the Bisons. Those players, their number and years spent as a Bison are: Ollie Carnegie (#6, 1931-41, 45), Luke Easter (#25, 1956-59) and Jeff Manto (#30, 1997-2000).
Heavily traveled Oak Street runs parallel to left field, where behind the outfield wall a 60' screen was erected to protect traffic from home runs. When the ballpark opened, The Buffalo News reported that "a ball must travel roughly 376 feet straight down the line to make it onto Oak Street." Despite the tall and lengthy expanse of netting in left field, it's not uncommon for home runs, especially those hit in batting practice, to reach the street that serves as an on-ramp for I-190 where it bypasses the ballpark.
Pettibones Grille, a full-service restaurant and bar that can seat 250, is located on the first base side of the ballpark on its mezzanine level, which is between the two seating (main and club) levels. Although not open every day, the restaurant is open year-round.
Became just the second minor league stadium to draw over a million fans in a season. Louisville's Cardinal Stadium, in 1983, was the first. The Bisons surpassed the million fan mark during each of their first six seasons (1988-1993) at what was then called Pilot Field. No minor league team, Buffalo included, has drawn a million fans since the Bisons' ballpark-opening streak ended.
Hosted the inaugural Triple-A All-Star Game on July 13, 1988, when a sellout crowd of 19,500 saw the American League affiliates defeat the National League affiliates, 2-1. Ed Jurak was named the game's MVP.
Since 2002, the National Buffalo Wing Festival has been held on Labor Day weekend at Coca-Cola Field. The hot sauce covered chicken wing was invented in 1964 at Buffalo's Anchor Bar, which is about 2 miles north of the ballpark.


Ballpark Firsts
First game: On April 14, 1988, the Buffalo Bisons beat the Denver Zephyrs, 1-0, in front of 19,500 fans
First pitch: Thrown at 2:34 p.m., it was a swung at strike
The ceremonial Opening Day first pitches were thrown by Buffalo Mayor Jimmy Griffin and New York Governor Mario Cuomo.

Other official ballpark firsts (all of which occurred on 4/14/88):
| | | | | | | |
| --- | --- | --- | --- | --- | --- | --- |
| Pitch | Batter | Hit (single) | Home Run | Winning Pitcher | Losing Pitcher | Save |
| Bob Patterson | Billy Bates | Jim Reboulet | Tom Prince | Bob Patterson | Mark Knudson | Brett Gideon |