The four ballparks used to host professional baseball in the city of Boston are featured in this 12" x 36" poster. The South End Grounds was the city's first ballpark and remains the only double decker. It is shown as it looked in the 19th century. Huntington Avenue Grounds was the first home of the Red Sox and is shown hosting the inaugural World Series game in 1903. There hasn't been a new ballpark open in Boston since 1915, when Braves Field made its debut. No ballpark in the city has ever seated more than its 40,000 capacity. Fenway Park appears in its original incarnation, with ads adorning the yet to be painted green Monster in left field. Combined, these four ballparks have hosted 14 World Series and housed 9 world champions!

Poster Info


12" tall by 36" wide unframed poster printed on 100 lb. cover stock
Features detailed illustrations of South End Grounds, Huntington Avenue Grounds, Braves Field and Fenway Park
To pay with major credit cards



Shipping: USPS First-Class Mail

This poster was produced by stadium historian and professional illustrator Jeff Suntala. Each ballpark was heavily researched to ensure its accuracy and contains a caption beneath it. This is what those captions say:
SOUTH END GROUNDS
1871-1914
The double decked version shown above was known as the Grand Pavilion and lasted only 6 years before being destroyed by fire. It was underinsured, so when it was rebuilt it became a much simpler single deck ballpark that lacked the Victorian frills of its predecessor.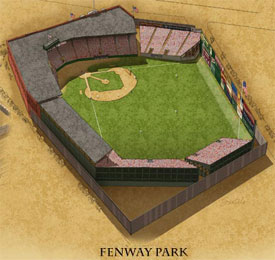 HUNTINGTON AVENUE GROUNDS
1901-1911
Located just across the railroad tracks from the South End Grounds, it was the site of the very first World's Series game on October 1, 1903. It featured the deepest center field ever, estimated to be 635 feet!
BRAVES FIELD
1915-1952
The last (and largest) of eleven big league ballparks built between 1909 and 1915, it sat 40,000. The bleachers in right field were known as the "jury box" because a sportswriter noted one day that exactly 12 people were sitting in it.
FENWAY PARK
1912
Early Fenway featured Duffy's cliff, a ten foot incline named after Duffy Lewis who patrolled left field in the early days of the park. The modern era's Green Monster was created in 1934 when the embankment was leveled and a taller wall replaced the existing one. Originally filled with advertisements, it went green in 1947.