Now in its fifth edition, Tim Shea's guide to Fenway Park is the most comprehensive resource for anyone wanting to visit the Boston landmark ballpark to see a Red Sox game.

Beginning with a thorough recap of the recent renovations and upgrades to the ballpark, the guide then lists how tickets are sold and means through which you can buy them before giving a detailed account of Fenway's 17 seating sections, an account that includes face value ticket pricing by section.

Since the first edition in 2007, the Fenway! guide's claim to fame has been its diagrams and charts that list each and every seat that has an obstructed view from one of the 26 poles that Fenway Park is infamous for. About 3% of all seats in grandstand sections 1 through 33 have "pole issues" and they are chronicled row by row.

Following that nice to know pole/obstructed view info, the guide then provides another valuable feature that's summed up by the chapter title, "How Far from the Field are My Seats?" With 48 pages of tabular data, it's easy to locate the distance from the field for every row in the main seating bowl.

Befitting of its subtitle, The Ultimate Fan's Guide, this book ensures that you get the most out of your Fenway experience by including info on how to get there by car or subway train, listing 22 hotels and inns that are within two miles of the ballpark, and detailing drinking and dining options within the park's confines and the best restaurants and bars in the surrounding neighborhoods.
To pay with any major credit card



Shipping: USPS First-Class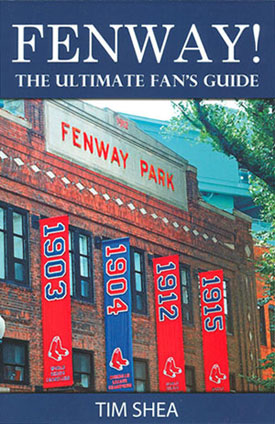 Book Info

5½" x 8½" paperback with 195 pages
Contains 49 photos and 71 seating chart diagrams & maps
Published in July 2011
From detailing the 10-year, $200 million renovation that was recently finished to highlighting (literally) seats in the grandstands that have full or partial pole obstructions, Fenway! The Ultimate Fan's Guide is just that...the ultimate fan's guide to "America's Most Beloved Ballpark," as the Red Sox like to call it.

Fenway Park is a baseball paradise for sure, and this guide makes sure your ticket to paradise is a good one...and covers all the bases in the process!
| | | |
| --- | --- | --- |
| Introduction | 1-5 | 2 |
| Fenway Park Renovations | 6-15 | 2 |
| How to Get Tickets | 16-27 | 2 |
| Types of Seating | 28-35 | 3 |
| Getting There and Parking | 36-37 | 1 |
| Taking the Fenway Tour | 38-39 | 0 |
| Restaurant and Bar Locator Map | 40-41 | 1 |
| Where to Eat and Drink Before and After the Game | 42-51 | 4 |
| Eating and Drinking in the Park | 52-55 | 1 |
| Lodging Locator Map | 56-57 | 2 |
| Where to Stay Overnight | 58-67 | 0 |
| 2004 Red Sox Postseason Quiz | 68-77 | 1 |
| Grandstand Seating Diagrams | 78-145 | 101 |
| How Far from the Field are My Seats? | 146-193 | 0 |
About the author
As expected, Tim Shea is a diehard Red Sox fan, but is forced to pull for the team in what's generally considered the more Yankees' friendly portion of Connecticut, the southern part, where he lives with his wife and four kids.