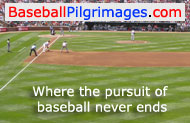 Sloan Park


2330 W Rio Salado Parkway
Mesa, AZ 85201

Opened:


2014

Capacity:


15,000

Elevation:


1,190'

---

Send this page to a friend
Questions or comments
The kingdom that is Cubdom finally has a good place to come for spring training. After languishing at nearby
Hohokam Park
for 17 seasons, the Cubs left a lackluster venue that was across the street from a cemetery for one that is decidedly more upbeat in location and upscale in layout. Done up in desert colors, designers did a real good job dreaming up Sloan Park, which is set in a bustling city park and should be the Cubsí home in Arizona for a very long time.
Debuting as Cubs Park in 2014 and picking up its corporate name in 2015, Sloan Park is a splendid place, mixing the best of modern times with historic nods to the Cubsí iconic confines in Chicago. Prominent pieces of Wrigley Fieldís flair found at the Cubs' Mesa liar are the brick wall backstop, rooftop-style seating (just in left field) and the fabled red marquee, which is on Sloan Parkís first base concourse and is immensely popular as it's interactive (fans can pose next to a brief message of their choosing on the marquee). As cool as that is, I was most impressed with the bleacher-shaped berm. Yes, the outfield lawn seating is shaped and sloped to match the look of Wrigley's bleachers, something thatís best noticeable before or after games, when the green grass is not blanketed with people (many of whom sit on blankets).
Despite the abundance of mimicry, Sloan Park is its own entity, with an overall feel that is more similar to its nearby brethren in Arizona thanks to a whole lot of open spaces and an open concourse that wraps the field. A novel addition is just off the right center-field portion of the concourse, as a picnic area that includes food trucks and an orange orchard is part of the ballparkís airy vibe.
Having a dedicated food truck area is a spring training ballpark first, and Sloan Park is also the first of its kind to have an official capacity reach 15,000. That means the Cactus League home of the Cubs is where the major spring training attendance records (season and single game) will emit from for the foreseeable future, as this ballpark broke the mold on what these kinds of parks can normally hold and itís not likely one would be built bigger any time soon. What that means is that more Cubs rooters are able to experience spring training than any other fandom and they are quite fortunate to have Sloan Park as their place to congregate, as its friendly confines are ideal for spending time in while enjoying the springtime version of America's pastime.

Location
Situated quite near where two major highways -- the 101 and 202 loops -- cross, Sloan Park is the eastern-end anchor of the Cubs' spring training complex, which takes up a decent chunk of 140-acre Riverview Park, a city park that opened in 1978 but was big-time revitalized as part of the master plan to bring big league baseball to the portion of it that had been home to a 3,150-yard golf course for a quarter of a century. Riverview Park's playground and pond were enhanced during that process, and both are as first-class for kids and those who fish as the ballpark is for baseball fans. A palm-tree lined path given a fancy name (Paseo Rio Vista) connects Sloan Park to the man-made Riverview lake, which is stocked with multiple species of fish.
Across the street from the lake and playground, which notably features a 50 foot high rope climbing tower, is the Mesa Riverview shopping center, which has plenty of national chain stores and restaurants in addition to its locally-based businesses. The first non-Cubs commercial development to open within Riverview Park proper will be a four-story, 180 room Sheraton that's a coming attraction on February 26, 2015. The hotel is "nestled" between the two parks (Cubs' and Riverview) in an area that is being billed as Wrigleywille West, as lots of future commercial square footage is envisioned for the parkland that is in the western part of Mesa, which is Arizona's third largest city (behind Phoenix and Tucson).
And for those wondering what the industrial looking buildings are aside the 202 freeway that aren't very far behind the left field side of Sloan Park, they are part of a wastewater treatment plant that is Mesa's biggest, as the officially named Northwest Water Reclamation Plant has an 18-million gallons per day treatment capacity.
Parking
Parking lots are found on two sides of Sloan Park, with the very large grass field that's centered near the right field gate the destination for most people, as it's the designated general parking lot. The parking field is split into two halves by the path that connects the ballpark to the Riverview lake and its grass is home to five full-sized soccer fields when not needed for spring training parking. A paved lot along the stadium's first base side is reserved for those with proper permits or passes, so anybody parked there has a handicapped hang tag, is sitting in a suite or is among the groups using the private party decks.
Collectively, the ballpark's two lots can hold about 5,000 automobiles and the price to park in a space is the costliest in the Cactus League ($7 in the inaugural year). However, two nearby shopping centers offer free parking with complimentary shuttle service: the extremely close Mesa Riverview and the 1.5-mile away Tempe Marketplace.
Mimicry in Mesa: the most notable touches of Wrigley Field at Sloan Park can be found behind home plate (brick backstop) and on the first base concourse (red marquee)
Features
A dated timeline of the Cubs' actual bear cub logo is displayed on a portion of the ballpark's facade that is between the home plate and first base gates. In all, 11 logos are shown, beginning with the original bear in 1908.
A replica of the marquee that is on the facade of Wrigley Field stands upright on the first base concourse at Sloan Park. Found behind section 118, the version of the marquee in Mesa is an interactive attraction, as fans are able to post their names or a very short message on its two-line display, with the personalization typed in by a ballpark staffer that is stationed nearby. This makes the familiar red sign a popular photo op spot with fans often having to wait in line for their up close and personal turn in front of the marquee, which is actually two-sided (both sides are identical in appearance and function).
The two quite tall and can't miss light towers on the roof of Sloan Park feature curved framework in their steel support structures that is evocative of Wrigley Field's rooftop light towers.
The brick backstop behind home plate is an authentic duplicate of the brick backstop at Wrigley Field, as the red brick used to make the 110-foot long curving wall at Sloan Park was manufactured by the same company (Hanson Brick of Charlotte, NC) that produced those used in Chicago.
The outfield lawn is similar in size and shape to Wrigley's bleachers, which can hold an estimated 4,500 people. The berm in Mesa can officially hold 4,202 in its foul pole to foul pole spanning grass, which has a gentler slope but an otherwise lookalike appearance to the iconic Chicago seating sections that it mimics.
A rooftop-style party deck overlooks the field beyond left field, where 1,000 people can fit up high in an area that has some bleachers, group seating and standing space, all of which are atop a lengthy building on the left field concourse that contains concession stands, bathrooms and a small team shop.
The scoreboard is in left-center field, behind the rooftop deck, and features a 88' wide x 28' high multi-purpose high-definition video board, and directly above that is a smaller version of the Wrigley scoreboard clock.
Two party decks take up the majority of space in the grandstand's upper level, with one each overlooking the first and third base line. Capacities for both are approximately 400 people.
A citrus grove is in the deep right-center field portion of the stadium confines. Behind the small number of trees, which visibly have oranges growing on them, is an open area with picnic tables that are near where food trucks are stationed. The food trucks offer a departure from the concession stands norm and can vary themselves from game to game. As for why a citrus grove is within Sloan Park, it's because long ago such trees had been planted in the same spot.
A wiffle ball field is between the citrus grove and center field gate. The mini field is fully turfed and is an area of the ballpark designated as the "Kids Zone."
Chicago-style or named cuisine is found in abundance at the concession stands, which include those called A Taste of Chicago and Windy City Dog, with some of the menu items sporting names like Blue Line Italian Beef Sandwich, Millennium Park Chicken Sandwich and O'Hare Wings, while pizza and hot dogs prepared the Chicago way are easy to find.
A path that connects the stadium to the Cubs' clubhouse is a great place to amass autographs, as all players must traverse it to reach their locker room, which is within the 65,000-square-foot Under Armour Performance Center, the organization's all-encompassing training center that is adjacent to the complex's six practice fields. The unpaved path has minimal barriers -- mainly just low-lying oleander bushes on each side -- and it purposely is there to give fans accessibility to players, whom either walk or ride in golf carts when going to and from their clubhouse or practice fields to Sloan Park.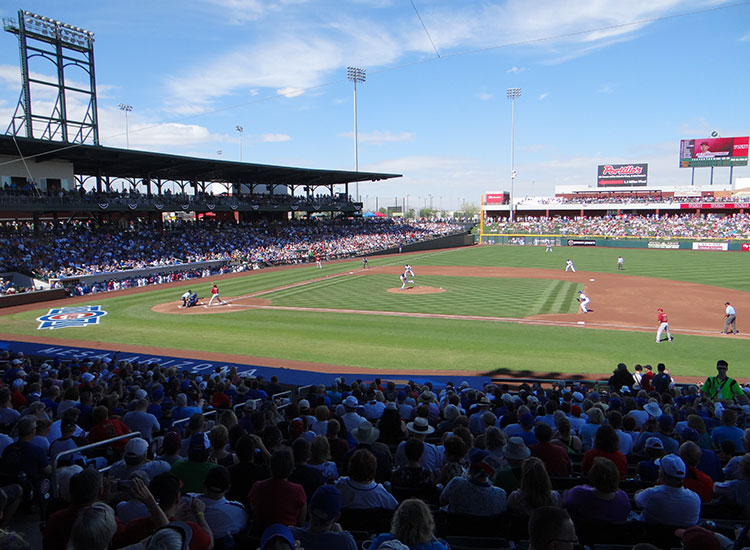 Sloan Park Facts, Figures & Firsts
Construction cost: $84 million (for the stadium and adjoining training complex)
Financing: Fully funded by the city, per a $99 million bond referendum, known as Proposition 420, that Mesa voters passed on November 2, 2010, by a 70,207 to 40,134 count. Thanks to 63.63% of the 110,341 votes being cast in favor of the ballot measure, Mesa was authorized to issue city-backed bonds that paid for all baseball facilities and $15 million worth of necessary infrastructure, such as roads, parking and utilities. The primary means that Mesa is using to pay off its bond debt is the selling of about 11,400 acres of city-owned farmland in Pinal County that Mesa had acquired in 1985 for its no longer needed water rights, with the selloff of that land expected to generate $135 million in an already agreed to deal with a company called Farm Sources International.
Architect: Populous
General contractor: Hunt Construction Group
Built on the site of what had been for 25 years a public golf course. The 9-hole Riverview Golf Course opened in November 1987 and closed on March 18, 2012 to make way for the Cubs' complex, which is 3.3 miles west of Hohokam Park, where the Cubs played their Cactus League games in Mesa from 1997 through 2013.
Naming rights: The Sloan Valve Company, of Franklin Park, IL, pays an undisclosed sum to put their name on the place, and the name Sloan Park was officially announced on January 8, 2015. The Cubs receive all the money that Sloan agreed to pay, which is reportedly for seven figures annually, over the duration of the deal that is to last somewhere between 10 and 20 years, the vague timeframe provided by officials from both parties. The partnership also includes signage at Wrigley Field, which is 15 miles east of the headquarters for Sloan, a company best known for its products and innovation in the toilet flushing field.
Was simply called Cubs Park from its opening until naming rights were sold. Since the name Cubs Park was intended to be temporary, the dedication plaque for the ballpark lists it as the Mesa, AZ "Spring Training Facility."
Owned by the City of Mesa and operated by the Chicago Cubs.
The Cubs' lease to use the stadium is for 30 years (through the 2043 season) and the team does pay the city rent.
Has 9,198 fixed seats and approximately 73% of them receive shade, according to figures provided by the architect.
Has 6 suites, none of which are available to be rented on a game-by-game or season basis as four of them are reserved by the Cubs for their corporate partners while Mesa maintains exclusive control of the other two suites.
The outfield walls are green-padded and have ads, not ivy, on them.
First game: February 27, 2014; a split-squad of Diamondbacks beat the Cubs, 5-2, before an announced crowd of 14,486

Other ballpark firsts (all of which occurred on 2/27/14):
| | | | | | | |
| --- | --- | --- | --- | --- | --- | --- |
| Pitch | Batter | Hit (single) | Home Run | Winning Pitcher | Losing Pitcher | Save |
| Jeff Samardzija | Gerardo Parra | Martin Prado | Eric Chavez | Will Harris | Wesley Wright | Jake Barrett |