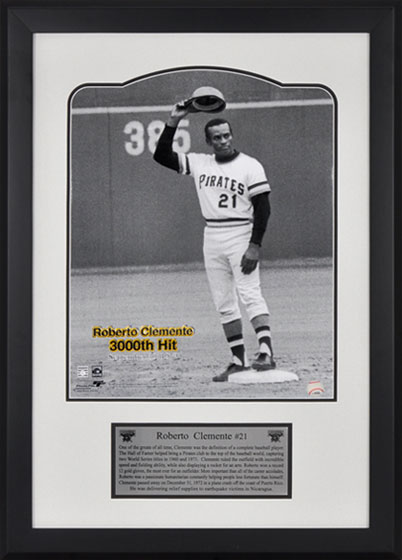 On September 30, 1972, in the last regular season at-bat of his career, the man simply known as "The Great One" did something that only 10 of the game's greats had done before: join the 3,000 hit club.

For Roberto Clemente the 3,000th hit was a double off the Mets' Jon Matlack. A lengthy ovation from the home crowd ensued.

This photo shows the classy Clemente tipping his cap to the crowd at Three Rivers Stadium shortly after he reached second base and the milestone. As all fans know, Roberto perished in a plane crash three months later and the 3,000th hit was his last.

The vintage black and white photo comes double matted in a wood frame and includes an engraved nameplate with remarks about Clemente the player and Clemente the man.

Size: 23¼" x 33¼"
Manufactured by Mounted Memories
Shipping: UPS Ground

Only $129


This product is no longer made

This is what's written on the nameplate below the photo:
Roberto Clemente #21
One of the greats of all time, Clemente was the definition of a complete baseball player. The Hall of Famer helped bring a Pirates club to the top of the baseball world, capturing two World Series titles in 1960 and 1971. Clemente ruled the outfield with incredible speed and fielding ability, while also displaying a rocket for an arm. Roberto won a record 12 gold gloves, the most ever for an outfielder. More important than all of the career accolades, Roberto was a passionate humanitarian constantly helping people less fortunate than himself. Clemente passed away on December 31, 1972 in a plane crash off the coast of Puerto Rico. He was delivering relief supplies to earthquake victims in Nicaragua.