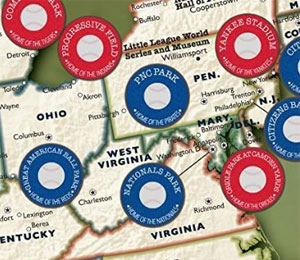 [ View full poster image ]

Poster Details
26" wide by 19" high
Shows the location of all 30 ballparks and 6 other popular baseball places
Fully laminated -- enables interactivity!
Comes with a sheet of 40 baseball stickers that say "Been There" -- use them to mark travels
Has checklist of past and present ballparks (60 total) for each team, listed alphabetically by league

This poster is just what any serious fan of America's pastime needs, as it marks the spot of every big league ballpark in the country. Better yet, it was designed to be interactive as the poster is laminated and comes with peel and stick baseballs that say "been there" so fans can mark the stadiums they've visited.

Furthermore, a dated team by team timeline of past and present ballparks is included on the lower half of the poster. The rundown of American League parks is on the left side, National League parks are posted on the right side. Next to the name of each ballpark is a checkbox, which gives fans another option besides the included stickers to mark their baseball travels.

In addition to graphically displaying the location of all 30 teams' ballparks, the map lists a handful of other places that are on any baseball fan's bucket list, such as the Field of Dreams site in Dyersville, IA and the Baseball Hall of Fame in Cooperstown, NY. Adding to its authenticity, state capitals and major cities are marked, just as they are on any official map. This one just happens to be more fun to show off.
Buy with major credit cards at CCNow



Shipping: USPS First-Class Mail (rolled in tube)
Poster Features

"Medallions" mark ballpark locations on laminated map


Use the included stickers to mark the stadiums you've visited


Keep track of visits on the past and present ballpark checklist

Ballpark Travel Quest - Major League Map Poster