The Grapefruit League Guide covers the 15 teams that train in Florida. The Cactus League Guide covers the 15 teams that hold spring training in Arizona. Each contains insightful information on the ballparks and cities/areas that host the teams.
Loaded with history, travel tips and links to more information, these spring training guides will save you time and money in planning your trip. Best of all, detailed information about each team is never more than a mouse click away!
Free e-mail advice from the author!
Grapefruit League (Florida) Guide




(85 pages in PDF format)




| | |
| --- | --- |
| | Use PayPal to buy with major credit cards |

Cactus League (Arizona) Guide




(79 pages in PDF format)



Buy both and save the most!

The Ultimate Spring Training Guide

Complete coverage of the Cactus and Grapefruit League


(160 pages in PDF format)




How and when will I receive my guide?
All spring training guides are sent via e-mail, as an Abode PDF attachment. Your order will be e-mailed to the address used to complete the transaction, unless you note otherwise. Most orders are fulfilled within 24 hours of purchase.
Not only are the guides comprehensive, but "using the guide is easy, even for a novice computer user," said Marty Strasen in the Tampa Tribune. And because they are electronic guides, you are always armed with the latest information – unlike guides at the local bookstore that are often outdated!

About Joe Connor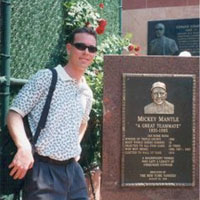 Joe Connor has been to more than 400 ballparks in numerous countries. A freelance writer by trade, he's contributed baseball and sports travel pieces to many major websites, including ESPN, FOX Sports and MLB. Raised on the east coast and now living on the west coast, Joe has traveled across the country in a 25-year old vegetable oil powered lime green Mercedes, spreading the gospel of renewable fuels at stadiums and arenas near and far.
You can read about his quest at Baseball Pilgrimages.
Joe's guides are written from a first person, fan's perspective with a budget in mind so you can save time and money in your planning process.
Special Bonus!
As a courtesy to buyers of his guide, Joe will provide free advice by e-mail. Information on this great service is contained within the guide.

Testimonials From Those Who Have Bought/Reviewed A Guide:
"Planning a vacation to spring training? The guides…can help a fan personalize their vacations with information from hotels to ticket prices."
– USA TODAY Sport Weekly
"This is exactly what we needed and wanted. Thank you for all your work. I'm sure our vacation to spring training this year will be a memorable one for our family!"
– Charlotte in Montgomery Village, MD
"Everything you need to know before going anywhere to watch spring training."
– Jerry Greene, Orlando Sentinel
"We had a BLAST and that was mostly due to all your recommendations and GREAT information."
- Tina in Chico, CA
"This is valuable. It's going to save you so much time and effort you won't believe it."
– Kevin Kietzman, WHB Radio in Kansas City
"We especially enjoyed the information about each ballpark relative to seating and parking, little tidbits about what made each park unique and what to expect added to our experience."
– Lou in Charlotte, NC