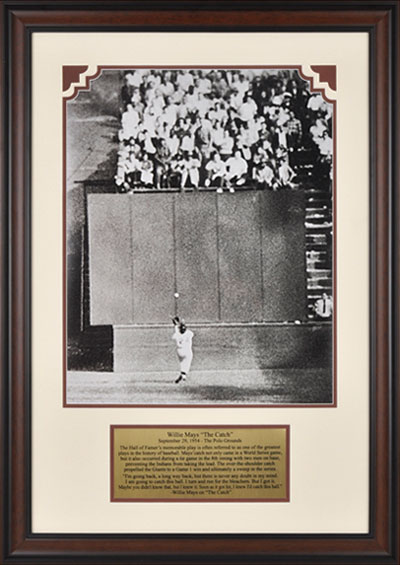 Willie Mays says he made better catches, but none were bigger than the on-the-run and over-the-shoulder grab he made of Vic Wertz's fly ball in Game 1 of the 1954 World Series.

Simply known as "The Catch," it prevented Cleveland from taking the lead in the 8th inning of a tied game at New York's Polo Grounds and propelled the Giants to a series sweep of the favored Indians.

This photo shows Mays about ready to make the signature play of his legendary career.

The vintage black and white photo comes double matted in a wood frame and includes an engraved nameplate with remarks about the historic catch and a quote from the man who made it.

Size: 22½" x 27"
Manufactured by Mounted Memories
Shipping: UPS Ground

Only $129


This product is no longer made
This is what's written on the nameplate below the photo:
Willie Mays "The Catch"
September 29, 1954 - The Polo Grounds
The Hall of Famer's memorable play is often referred to as one of the greatest plays in the history of baseball. Mays' catch not only came in a World Series game, but it also occurred during a tie game in the 8th inning with two men on base, preventing the Indians from taking the lead. The over-the-shoulder catch propelled the Giants to a Game 1 win and ultimately a sweep in the series.
"I'm going back, a long way back, but there is never any doubt in my mind. I am going to catch this ball. I turn and run for the bleachers. But I got it. Maybe you didn't know that, but I knew it. Soon as it got hit, I knew I'd catch this ball."
-Willie Mays on "The Catch"