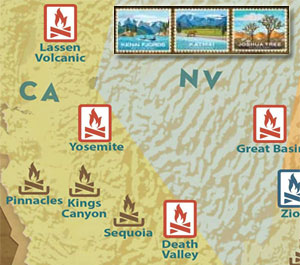 [ View full poster image ]

Poster Details
26" wide by 19" high
Shows the location of the 59 national parks
Bordered by images representing each park
Fully laminated -- enables interactivity!
Comes with a sheet of 80 colored campfire stickers (60 red, 20 blue) -- use to mark travels

It's game day every day in the national parks of the USA. There are 59 of them and their locations are on display on this poster, which was designed to be interactive as it's laminated and comes with peel and stick campfire icons that travelers can use to mark the sites they have visited.

Furthermore, a pictorial presentation of the national parks surrounds the map. The original stamp-style art depicts each park's signature natural feature. The unique identifiers really give the map an added, and attractive, visual pop.

The map itself is set against a natural woodgrain backdrop that allows it to stand out. In addition to the lower 48 states main map, insets of Alaska, Hawaii, American Samoa and the Virgin Islands are shown.

In all, 27 states and two US territories are home to national parks and this poster pinpoints and graphically displays them on a one-of-a-kind map that lets anyone track their travels to the prominently scenic destinations.
Buy with major credit cards at CCNow



Shipping: USPS First-Class Mail (rolled in tube)
Poster Features

Campfire icons mark the location of each national park on the laminated map


Use the included stickers to mark the parks you've visited


A unique "stamp art" image of each park forms the border of the map

Framed Poster
For those who prefer a framed print over a laminated poster, a dark, rustic wood is used to beautifully surround an enlarged version of the map, which maintains its interactivity through the usage of a custom pin set.

The framed map measures 31" x 21" -- that's 5" longer and 2" taller than the poster -- and has a sturdy wire strap on its backside that makes hanging on a wall quick and easy.

Buy with major credit cards at CCNow



Shipping: UPS Ground


[ View larger image ]



The pin set that comes with the framed print includes
White push pins to mark visited parks
Yellow push pins to mark favorite parks
Green push pins to mark the most recently visited parks

The pins are placed directly on the map, which isn't laminated when framed.

Another way in which the framed map is different from the poster is that a national park's date of establishment is included alongside its locator icon.

And it's into those enhanced campfire icons that you simply push a pin to map your personal national park travels.



---
National Parks Travel Quest - Map Poster