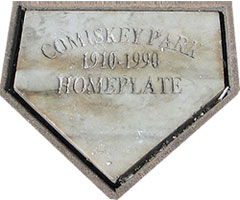 At the time it was replaced, Comiskey Park was the oldest active professional ballpark in existence, as its 80-year run as the home of the White Sox began on July 1, 1910, exactly seven weeks before the runner-up, Birmingham's
Rickwood Field
, made its debut.
While Rickwood is still-standing (and used), Comiskey was demolished in 1991 and all that remains are markings of its circular home plate area, complete with batter's box outlines and a marble replica of home plate, which is etched with the words "Comiskey Park, 1910-1990, Homeplate."
Comiskey Park was one of the game's treasures. It notably hosted the first-ever All-Star game in 1933 but may be better remembered as the place where Bill Veeck's innovative "exploding" scoreboard first came to life in 1960. During the park's eight decades of active duty it welcomed 72,801,381 fans to watch the White Sox.
Now, all that's left of Comiskey are memories and the memorial found in the north parking lot of its replacement, U.S. Cellular Field, where fans can step up to (and on) the plate that is inlaid within the tan concrete that separates the old park's tribute from the asphalt of Lot B, where the lyrics "they paved paradise and put up a parking lot" seem appropriate.
Plenty of fans visit the paved over paradise acknowledgment to the parking lot's glorious past before and after the White Sox play across the street. The marble home plate is not far from the Gate 5 ramp that crosses over 35th Street, the address of both the old (324 West 35th St.) and current (333 West 35th St.) home of the White Sox.
As for the old home, it hosted four World Series, three All-Star games, and its last game on September 30, 1990, when the home team was victorious over its final day visitors, the Seattle Mariners, by a 2-1 score.
Nearly six months later, the wrecking ball started doing its wrecking, with the 6,500-pound steel ball first taking aim at Comiskey's outer right field wall on April 3, 1991 at 10 a.m. A crowd of onlookers booed at first strike.
It took almost an entire baseball season, but demolition was completed in late September, when the exploding scoreboard was dismantled by workers employed by Speedway Wrecking, the Chicago-based company hired to demolish the ballpark that Charles Comiskey had built on land that he had purchased for $100,000 in 1909 from the estate of Chicago's first mayor.
Charles Comiskey died in 1931, his heirs sold primary control of the franchise in 1959, and today the family legacy is reduced to a 17-inch wide marble marker that signals where "home" was for multiple generations of South Siders and Chicago White Sox.


The sole tribute to Comiskey Park resides in parking lot "B" outside of U.S. Cellular Field