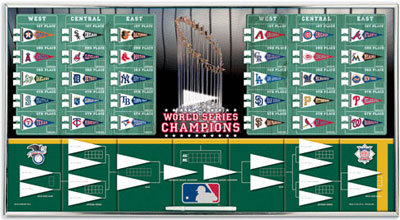 [ View the complete board and magnets set ]

Magnetic Board Details
32" wide by 17" high -- weighs just 6 lbs.
Comes with 2 pennant magnets for every team (60 magnets total)
Includes dry erase pen and areas to mark wins, losses and games back in each of the six divisions
Playoff portion shows each league's wild card game, division and championship series, and the World Series
Easy to hang with sturdy wire strap on back
Made in the USA and licensed by MLB
Out of stock since 12/12/15, as parts needed to make the board are no longer available

Keep track of the Major League Baseball standings all season long and then continue to follow along in the postseason with this unique MLB magnetic standings and playoff board.

Made of lithographed tin, the board has places to put pennant-shaped team magnets for each of the six divisions and an area in which you can chronicle the postseason results. With the included dry erase pen, you can keep track of every team's regular season record and post all playoff series game scores.

Two sheets of team pennant magnets for each league are included with the board, so you'll have separate sets for the standings and playoffs.

The MLB standings/playoff board is fun and useful for baseball fans of all ages, plus it looks good and is easy to hang on any wall.

Only $55



Discontinued by the manufacturer
Magnetic Board Features

Keep track of the standings and playoffs with team logo pennant magnets


Use the dry erase pen to tally wins, losses, games back and playoff results


A wire strap on the back makes it a cinch to hang the board on a wall

Additional Details
The board's front is lithographed tin and it has a plywood backing. It comes framed. The frame is made of silver aluminum.

The strap on the board's plywood back is small but strong and hanging it is as simple as hanging a picture or anything else you hang on a wall.

The magnets come in sheets. Just pop them out and they're ready to be placed on the magnetic board. Two magnets per team come with every board. That means you get 60 total magnets, rather than the usual 30 that normally come with the board. The inclusion of an extra set of magnets means you don't have to remove the ones on the standings portion of the board come playoff time.

Note: The extra "packet" of magnets -- the 15 AL and 15 NL team pennants -- is a $12 value, as that's what the set retails for separately.


What you get
A 32" x 17" framed board with regular season division standings and the playoff bracket lithographed on it
2 sheets of American League team magnets
2 sheets of National League team magnets
1 dry erase pen

No assembly is required, so the board is ready to be used out of the box. The board and magnets set is shipped in a 36" x 18" x 1" box. Pictured below is exactly what you get.
Major League Baseball Standings/Playoff Board and Pennant Magnets