In the year in which the Red Sox celebrated their 100th birthday at their Boston ballpark the team debuted their spring training homage to Fenway Park in Fort Myers, where they have trained since 1993 but did so prior to 2012 at the still standing
City of Palms Park
.
While the Red Sox have been firmly entrenched in Fenway Park for a full century, City of Palms Park was deemed deficient after just 19 seasons of spring time use and to keep the team happy, and in town, a new state-of-the-art stadium and complex, referred to as JetBlue Park at Fenway South, was built and paid for by Lee County just a dozen miles from the former Red Sox spring training stadium the county also owns.
City of Palms Park was framed by the greenery of palm trees and its replacement will forever be famous for its green backdrop in left field, where a 37' high replica of Fenway Park's Green Monster is the signature feature at Fenway South. The Fort Myers Monster does look quite different in one respect though, as a few rows of seats were built into a hollowed out portion of the wall, where taut netting was placed in place of the missing Monster. Atop the modified wall is a single row of drink rail seats that front a large deck.
Aside from the Green Monster's deviation, JetBlue Park stays mostly true to the ballpark it mimics, going so far as to have the same cast-iron seats in its seating bowl, which is a duplicate of the lower grandstand layout at Fenway Park. Overall, the Fort Myers ballpark has roughly a quarter of the seats that Fenway has.
Capacity of JetBlue Park is estimated to be near 11,000, with 9,990 of that total coming from fixed seats, which includes three sections of bleachers in right-center field that can seat 400 people. The bleachers are behind a small berm than can hold a couple hundred fans and in front of that low-lying grassy area are the bullpens, set side-by-side in the same location and at the same distance from home plate as they are in Boston.
One feature that JetBlue Park didn't just copy but literally took from Fenway Park is the manual scoreboard at the base of its Green Monster. It happens to be an authentic one that was used in Boston for parts of four decades. Moved into storage in 2001 and refurbished in South Dakota a decade later, the celebrated scoreboard compliments the state-of-the-art one (meaning it has a high definition video panel) standing behind the bleachers in right field.
Although the similarities between the ballparks in Boston and Fort Myers are quite pronounced, JetBlue Park differs from its inspiration in some equally prominent regards. Whereas Fenway is notably painted green and sports a facade of brick, JetBlue Park is made mostly of steel that's colored white. The distinctive cantilevered roof that traces the upper grandstand is white as well; each of its panels are angled differently in a design quirk that looks reminiscent of the zig-zag roof behind the Dodger Stadium bleachers. JetBlue Park's wavy roof, in the words of its architect, actually represents "the energy and movement" of the cypress trees that are native to the area.
While that comparison might be difficult to make for most fans, noticing that the quirky field dimensions of Boston's bandbox ballpark have been replicated in Fort Myers should be an obvious observation for any member of Red Sox Nation. Meanwhile all fans can congregate on the road alongside of JetBlue Park that features the "street festival" atmosphere found on game day at Yawkey Way. And that's just another example among many that give JetBlue Park a look and feel deserving of its Fenway South co-branding.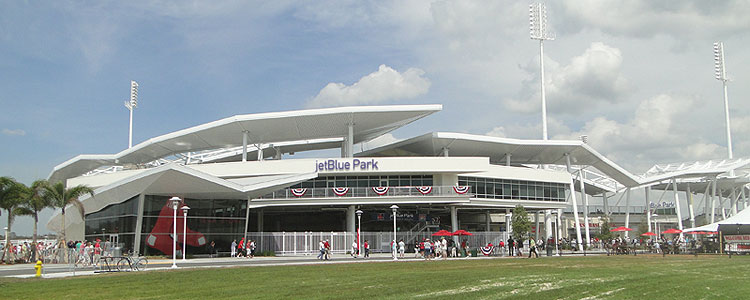 Location and Parking
JetBlue Park has lots of green space around it. In fact, prior to its construction cows were about as common a sight as cars on the stretch of Daniels Parkway that JetBlue Park was built off of. There's still not too much between I-75 and the spring training complex, which are separated by only about two miles. Getting to the ballpark is as simple as taking Exit 131 and going east until you spot it on your left.
While one day there should be a lot going on in the area -- the Red Sox bought the 20 acres of frontage property between the complex and Daniels Parkway in anticipation -- JetBlue Park-spurred development has been minimal to date. The one important destination that has been in the vicinity for quite some time is Southwest Florida International Airport, which is about halfway between I-75 and JetBlue Park, making the airline-sponsored ballpark name rather appropriate.
Parking is plentiful and quite the cash cow for the team, as the price has been $10 per vehicle since JetBlue Park opened in 2012, which then made the Red Sox's winter home just the third spring training ballpark to reach the $10/car threshold, following Steinbrenner Field (Yankees) and Charlotte Sports Park (Rays). Fans park in grass fields on opposite sides of JetBlue Park that are used for soccer by local teams outside of the spring training season.
For a complete and always up-to-date ballpark guide, visit the...

JetBlue Park page at Spring Training Connection
2017 Red Sox Spring Training Schedule at JetBlue Park