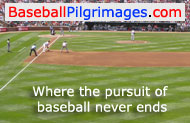 Cardinals and Marlins Spring Training
Roger Dean Stadium


4751 Main Street
Jupiter, FL 33458

Opened:


1998

Capacity:


7,000

Elevation:


18'

---

Send this page to a friend
Questions or comments
Roger Dean Stadium Facts & Figures
Construction cost: $28 million
Financing: A portion of the money collected from a county tax charged on short-term rentals of any living accommodation, generally referred to as bed tax collections as the surcharge most commonly applies to hotel guests, is dedicated to paying the debt service on the bonds that were issued to construct the complex. Palm Beach County defines short-term as six months or less and its Board of County Commissioners approved upping their bed tax by 1% in 1994 to "finance the construction of a professional sports franchise facility," which ended up being Roger Dean Stadium.
Architect: HOK Sport
General contractor: Case Contracting
Groundbreaking: March 6, 1997
Owned by Palm Beach County.
Operated by Jupiter Stadium Limited, which is a partnership between the Cardinals and Marlins.
Naming rights: Roger Dean Chevrolet of West Palm Beach paid $100,000 per year through the 2009 season. On August 19, 2009, they renewed their naming rights contract through the 2017 season for an undisclosed sum.
The stadium and its associated facilities take up 110 acres of land in the 2,055-acre master planned mixed-use community called Abacoa.
Suffered $3.2 million in hurricane damage in the summer of 2004, when seven of the stadium's eight light towers were knocked down, damaging the roofs of the Cardinals' clubhouse and press box in the process.
Since the 2009 season, a type of grass called Celebration Bermuda has covered the field, which has twice been recognized by the Sports Turf Managers Association as their Professional Baseball Field of the Year. Roger Dean Stadium won the prestigious award in 2005 and 2011. The stadium's field was originally switched to a Celebration Bermuda grass playing surface in October 2008 at a cost of $160,000 with Sports Turf One of Boynton Beach, FL supplying and installing the sod.
Was the first two team spring training complex in the Grapefruit League and is the only stadium in the country to annually host two minor league teams.
Spring training tenants: St. Louis Cardinals (1998-present), Montreal Expos (1998-2002), Florida/Miami Marlins (2003-present)
Minor league tenants: Jupiter Hammerheads (1998-present), Palm Beach Cardinals (2003-present)
The current lease for joint usage of the stadium and complex by the Cardinals and Marlins expires after the 2027 season.
Hosted a qualifying tournament for the 2013 World Baseball Classic that involved four countries -- France, Israel, South Africa and Spain. A total of six games were played on September 19-23, 2012, with Spain emerging as the victors and thus advancing to the main draw of the WBC. Total attendance for the qualifying round in Jupiter was 9,938. The championship game easily drew the largest individual game crowd (4,463) while three games drew less than 1,000 fans, with the smallest amount being 814.
Stadium Firsts
First game: February 28, 1998; the St. Louis Cardinals beat the Montreal Expos, 5-0, with 6,899 as the announced attendance.

Official stadium firsts (all of which occurred on 2/28/98):
| | | | | | |
| --- | --- | --- | --- | --- | --- |
| Pitch | Batter | Hit (single) | Home Run | Winning Pitcher | Losing Pitcher |
| Cliff Politte | Mark Grudzielanek | Mark McGwire | Mark McGwire | Cliff Politte | Carlos Perez |

2018 Spring Training Schedule at Roger Dean Stadium

February
Day
Time
Game
TicketNetwork
23
Friday
1:05
Cardinals at Marlins
Tickets
24
Saturday
1:05
Nationals at Marlins
Tickets
25
Sunday
1:05
Astros at Cardinals
Tickets
26
Monday
1:05
Astros at Marlins
Tickets
28
Wednesday
1:05
Nationals at Marlins
Tickets
March
Day
Time
Game
TicketNetwork
1
Thursday
1:05
Twins at Cardinals
Tickets
2
Friday
1:05
Red Sox at Cardinals
Tickets
3
Saturday
1:05
Mets at Marlins
Tickets
4
Sunday
1:05
Astros at Cardinals
Tickets
5
Monday
1:05
Nationals at Cardinals
Tickets
6
Tuesday
1:05
Cardinals at Marlins
Tickets
7
Wednesday
1:05
Nationals at Cardinals
Tickets
8
Thursday
1:05
Marlins at Cardinals
Tickets
9
Friday
1:05
Red Sox at Marlins
Tickets
10
Saturday
1:05
Marlins at Cardinals
Tickets
11
Sunday
1:05
Yankees at Marlins
Tickets
13
Tuesday
1:05
Cardinals at Marlins
Tickets
14
Wednesday
1:05
Mets at Marlins
Tickets
15
Thursday
1:05
Orioles at Cardinals
Tickets
16
Friday
1:05
Marlins at Cardinals
Tickets
17
Saturday
1:05
Astros at Marlins
Tickets
18
Sunday
1:05
Nationals at Cardinals
Tickets
19
Monday
1:05
Nationals at Marlins
Tickets
20
Tuesday
1:05
Mets at Cardinals
Tickets
21
Wednesday
1:05
Cardinals at Marlins
Tickets
22
Thursday
1:05
Braves at Cardinals
Tickets
23
Friday
7:05
Nationals at Marlins
Tickets
24
Saturday
1:05
Mets at Cardinals
Tickets
25
Sunday
1:05
Astros at Marlins
Tickets

See the complete...
Spring Training Schedule