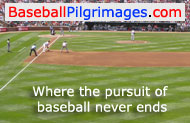 Astros and Nationals Spring Training
Ballpark of the Palm Beaches


5444 Haverhill Road
West Palm Beach, FL 33407

Opened:


2017

Capacity:


7,800

Elevation:


25'

---

Send this page to a friend
Questions or comments

Ballpark of the Palm Beaches Facts & Figures
Construction cost: $148,577,137
Financing: Palm Beach County issued $130 million in construction bonds, agreeing to do so on October 20, 2015. Prior to that, the county had already paid $5 million for preliminary design work, thus bringing the approved budget total to $135 million. The Astros and Nationals were responsible for the cost overruns that were incurred. County and state funding plus lease payments from the teams will be used to pay off the bonds over a 30-year period, over which time the total cost of the principal and interest will be $232.9 million. Palm Beach County is paying the largest share of the debt service, with $116 million projected to be raised from a county tax on hotel bookings and short-term rentals (the so-called "bed tax"). Additionally, the ballpark's co-tenants are expected to make about $67 million in combined rent payments while the state of Florida's contribution is pegged at $50 million and comes via a grant program that was created to support spring training in the state.
Architect: HKS
Construction manager: Hunt Construction Group
Owned by Palm Beach County.
Leased to the Houston Astros and Washington Nationals for 30 years.
Operated by HW Spring Training Complex, an LLC partnership by the Astros and Nationals (hence the HW for Houston and Washington).
The entire spring training complex occupies 161.09 acres and was built on the site of a former landfill, the Haverhill Yard Trash Site, which closed in 1991. The property was acquired by the county in a land swap deal with the City of West Palm Beach in February 2015.
Groundbreaking date: November 9, 2015
Naming rights can be sold by the Astros and Nationals, but "of the Palm Beaches" or "at the Palm Beaches" must be a part of any new name.
Has 6,400 fixed seats, lawn seating for 1,250, and an upper level with six suites and two party decks.
Replaced Osceola County Stadium and Space Coast Stadium as the spring training home for the Astros and Nationals. The teams' previous Grapefruit League ballparks were 117 miles (Nationals in Viera) and 143 miles (Astros in Kissimmee) away.



Ballpark Firsts
First game: February 28, 2017; the Washington Nationals beat the Houston Astros, 4-3, with 5,987 as the announced attendance. The game was played in 3 hours and 7 minutes.

Official ballpark firsts (all of which occurred on 2/28/17):
| | | | | | |
| --- | --- | --- | --- | --- | --- |
| Pitch | Batter | Hit (double) | Home Run | Winning Pitcher | Losing Pitcher |
| Jeremy Guthrie | Marwin Gonzalez | Daniel Murphy | Carlos Beltran | Matt Albers | Ashur Tolliver |

2017 Spring Training Schedule at Ballpark of the Palm Beaches

February
Day
Time
Game
TicketNetwork
28
Tuesday
1:05
Astros at Nationals
Tickets
March
Day
Time
Game
TicketNetwork
1
Wednesday
1:05
Marlins at Astros
Tickets
2
Thursday
1:05
Nationals at Astros
Tickets
3
Friday
1:05
Cardinals at Nationals
Tickets
4
Saturday
1:05
Mets at Astros
Tickets
5
Sunday
1:05
Twins at Nationals
Tickets
6
Monday
1:05
Red Sox at Astros
Tickets
7
Tuesday
1:05
Red Sox at Nationals
Tickets
8
Wednesday
1:05
Mets at Astros
Tickets
9
Thursday
1:05
Marlins at Nationals
Tickets
10
Friday
1:05
Cardinals at Nationals
Tickets
11
Saturday
1:05
Marlins at Astros
Tickets
12
Sunday
1:05
Astros at Nationals
Tickets
13
Monday
1:05
Tigers at Nationals
Tickets
14
Tuesday
1:05
Mets at Astros
Tickets
15
Wednesday
1:05
Nationals at Astros
Tickets
16
Thursday
1:05
Mets at Nationals
Tickets
17
Friday
1:05
Braves at Astros
Tickets
18
Saturday
1:05
Astros at Nationals
Tickets
19
Sunday
1:05
Yankees at Astros
Tickets
20
Monday
1:05
Yankees at Nationals
Tickets
20
Monday
6:05
Cardinals at Astros
Tickets
21
Tuesday
1:05
Braves at Nationals
Tickets
22
Wednesday
1:05
Twins at Astros
Tickets
23
Thursday
1:05
Mets at Nationals
Tickets
24
Friday
1:05
Cardinals at Nationals
Tickets
25
Saturday
1:05
Nationals at Astros
Tickets
26
Sunday
1:05
Astros at Nationals
Tickets
27
Monday
6:05
Cardinals at Astros
Tickets
28
Tuesday
6:35
Marlins at Nationals
Tickets
29
Wednesday
1:05
Marlins at Astros
Tickets