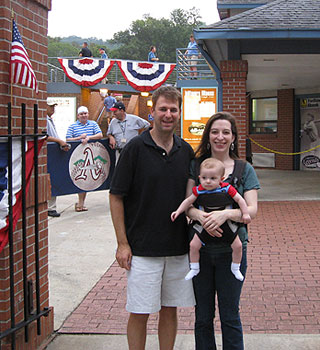 Dad, Mom & Zach just prior to entering McCormick Field
Zachary Ramsey Knight entered the world five days after the 2008 World Series ended.
Exactly 244 days later he entered his first ballpark.
Born to proud parents Graham Knight and Katherine Ramsey, one a big baseball fan, the other not so much (she'll learn), Zachary made his debut at an appropriate venue given his size, the 4,000-seat McCormick Field in Asheville, North Carolina.
Home to the Asheville Tourists since 1976, McCormick Field has undoubtedly hosted many first time fans since it opened in 1924. Two major renovations (1959 and 1992) and 85 years later, the ballpark nestled among the city's hills welcomed our little slugger to his first baseball game, when at 7:36 pm on Sunday, July 5, 2009, Zachary officially entered its grounds, albeit 31 minutes after the first pitch was thrown. When that happened we were about a half-mile uphill in downtown Asheville dining at Barley's Taproom & Pizzeria.
I know, I know. That's not setting a good example.
But being late did come with an advantage, as parking at the ballpark was free courtesy of the attendant who gave us his space on the street, one he no longer needed as the McCormick Field lot filled up just prior to our arrival, when a minivan occupied by Zachary's aunt, uncle and two cousins paid $5 for the final spot.
While mom, dad and baby waited for their complimentary spot to materialize, the other half of the traveling party made their way to the box office to purchase six of the 2,692 tickets that were sold to watch the Tourists, an affiliate of the Rockies, play the visiting Charleston RiverDogs (Yankees) in a game scheduled for the evening so as to allow for a post-game "Fireworks Extravaganza."
Arriving in the middle of the second inning, we entered the grandstand at about the same time as raindrops began to fall from the Western North Carolina sky. That act of Mother Nature sent many fans scurrying to position themselves under the ballpark's cantilevered roof, which covers the majority of general admission seats between the dugouts. That was where we were to sit anyway, but in the scramble for cover we settled on the first row of seats we could find that provided satisfactory shelter.
Hence Zachary's vantage point for his inaugural game came from section BB, row D, seat 5, rather than the same seat in section CC, row I that we paid $10 for, although technically our little tyke was not counted among the paid attendance as the Tourists admit children under two years of age for free so long as they can sit comfortably in a parent's lap.
So it was primarily upon his mother's lap in a bleacher seat behind the home team dugout that my son witnessed his first game. The first batter he was able to gaze upon was a 24-year old catcher, Beau Seabury, hitting five points below his weight (190 lbs.). After grounding out to the shortstop Seabury's batting average dipped to .184.
The next batter, Carlos Martinez, hadn't fared much better on the year, starting the game with a .179 average. But it was the undrafted Martinez, a relative baby himself at 20-years old, that was responsible for the first hit that Zachary was to see when he doubled to left field.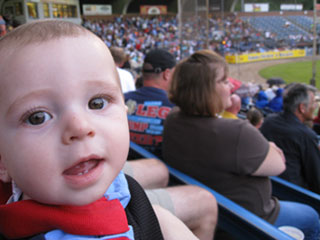 Of course he'll remember none of this, but I must say for a toddler that is easily distracted Zachary did a good job of "watching" what transpired on the diamond, although his mother professed afterwards there was much wiggling going on.
It's also worth mentioning that there was very little crying in baseball on this night. The biggest fuss from our 8-month old came during the 7th-inning stretch, when everyone rose for 'God Bless America.' That change in latitude didn't sit too well with Zach, who exercised his vocal cords during the seven stanzas of lyrics, during which time his mother was in the bathroom and dad had less success than Seabury hitting in quelling the tears.
Aside from that, I spent much of my time with one eye on the ball and one eye on the baby, taking just an inning to browse the ballpark, something I usually spend the majority of the game doing. For perhaps the first time, I was more interested in what was going on in the stands.
Had I meandered about more I might've been told by one of the old-timers serving as ushers that Cal Ripken Jr. got his start in Asheville...as a bat boy, a job that current UNC basketball coach Roy Williams held in 1961.
Or I might've learned that Ty Cobb hit the first home run in McCormick Field history in 1924 and that Babe Ruth became so ill before his Yankees were to play an exhibition game there the following year it was reported that he had died. He didn't, of course, and homered when he returned to Asheville in 1931.
The most famous homer hit at McCormick Field was a fictional one that still gets plenty of airplay thanks to the 1988 film Bull Durham. In the movie, Crash Davis, played by Kevin Costner, hit his final and record breaking home run as a member of the Tourists.
Thanks to the Internet and a pair of great writers -- Jim Caple and Josh Pahigian -- I was able to unearth those facts after the fact. But none of that mattered on the midsummer night when Zachary's visit to McCormick Field added a little more history to a place already steeped in it.
That night will now rank as one of the most memorable of the many that I've spent at a ballpark over the years, as it marked the first of what I'm sure will eventually be numerous father and son trips to watch a variety of home teams.
Baseball, it is often said, is a sport that is passed down from generation to generation, the game becoming more ingrained with each visit to the ballpark. For this father and son, Asheville's minor league park is where that process began.
For those baseball mad dads (and moms) wanting to take their tots to their first game while their age is measured in months, not years, a minor league ballpark is an ideal place to do it, even if you live a short distance from a major league park, as we do in Atlanta.
The quaintness of minor league parks makes them easy to move about and their parking lots are generally adjacent to the stadium, which is either not the case or an affordable option at the big city versions. As Katherine pointed out, the walk to the ballpark from the parking lot is an important factor to consider when taking a rookie in life to the old ball game.
Asheville was a relatively unplanned field of dreams for us because of its proximity (35 miles) to Zachary's grandparents in Brevard, NC, although I don't think momma would've been convinced to go if not for Aunt Stephanie and Uncle Ed and Cousins Caroline and Ben, all of whom stayed for the post-game fireworks.
By the time those bombs were bursting in air, my family was exiting our parking space. But I can proudly exclaim we were there for the final out at 9:47 pm, when a Jose Pirela fly ball to center turned into a rare game-ending 5-8 double play.
For the record, the Tourists beat the RiverDogs 7-6 [box score] in a game that featured five home runs, three hit over the very tall (36') wall that is a very short distance (297' to right, 320' to the gap) from home plate.
Also for the record, and much to his mother's chagrin, it should be noted that before Zachary was baptized he was immersed in America's national pastime on a night in which rain drizzled intermittently upon a green cathedral built into an Asheville hillside.
And so it came to pass that a ballpark that hosts a home team named the Tourists on a playing field with conservative dimensions attributed to the hills surrounding it introduced the son I love to the sport I love. McCormick Field will always be special as a result.