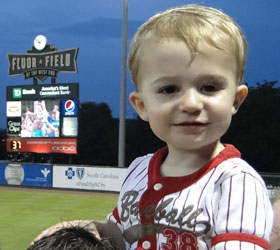 Between Games 5 and 6 of the classic 2011 World Series waged between the Cardinals and Rangers, a tiny baby boy entered our household via a hospital a mere 15 miles north of Turner Field.
Bearing a name often associated with the Texas Rangers, Walker Samuel Knight arrived via a Northside Hospital delivery room a couple weeks early, but had a 634-day wait until he walked through a gate on South Main Street in Greenville, South Carolina, where a not very old ballpark that is home to a South Atlantic League team became the first one visited by my 1-year old son.
Like his older brother, Zachary, who attended his first game in a Sally League ballpark four Julys prior, Walker was accompanied by an aunt, uncle and two cousins who call the area home.
But whereas Zachary's ballpark debut was in a very aged venue, the venerable McCormick Field in Asheville, the home of the Greenville Drive dates to just 2006, which means Fluor Field was designed with just the kind of crew in mind to visit its confines and surrounding environs on the evening on Saturday, July 20, 2013, when two families of four walked through the equivalent of the ballpark's front door.
The main entrance at Fluor Field is found in left field, not far from a variety of restaurants and bars. One such place across the street from the stadium was where we were at 7:00, when Lexington's Terrance Gore stepped to the plate to face Greenville's Francellis Montas while we waited for our plates at Mac's, a beer and BBQ joint with plenty of suds on draft and sauces on the table.
Our pre-game meal arrived shortly after game time but was worth the wait for our eight, and Walker ate a grilled cheese and some baked beans plus a bite of pulled pork while a few hundred feet away the Lexington Legends scored a pair of first inning runs.
So the score was 2-0 in favor of the visitors when an almost 21-month old visitor entered Fluor Field at 7:45.
While Walker might've been late, he was properly attired for his inaugural ballpark outing, wearing a one-piece button down "uniform" with Baseball written across it in the traditional baseball script with corresponding underline. His outfit looked further official and traditional thanks to the pinstripes that vertically extended the uniform's entire length.
Just as it would've been had he entered 45 minutes earlier, Lexington's lead-off man, Terrance Gore, was batting to start the top of the 3rd when Walker strode through the left field corner gate, which began what would be an almost two-hour rollick through the ballpark.
Not surprising to anybody that has a toddler, Walker's attention was not often directed towards the field, where Gore popped out to first to mark the first official at-bat in Walker's presence.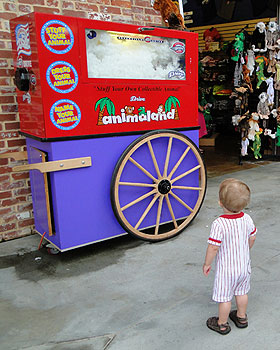 The ballgame had trouble competing with the stuffed animal machine and other distractions
Around the time Gore was trotting back to the dugout, a stuffed animal machine outside of the Drive's team shop had captivated Walker. He looked at the colorful cart in bewilderment, transfixed by the white, cotton candy-like stuffing whirling around in the bright red compartment of the "animaland" machine.
The scene was like one out of a Curious George story, and Curious Walker Goes to the Ballpark would be an appropriate way to sum up the experience of taking our 1-year old to a baseball game.
Finally fleeing the machine where you "stuff your own collectible animal" (we never did), father followed son in a tot trot to our seats, in which we would only briefly ever be seated. For the record, they were found in Row N of Section 116, which is one of four bleacher sections in the ballpark, all of which go by the more comfortable sounding "Reserved Terrace" designation.
Before we could arrive in the bleachers in which everybody that came with us was already seated, another machine – this one spraying mist – stopped Walker's forward progress. The misting machine on the first base concourse would be a frequent stop in his romp throughout Greenville's ballpark. The most popular destination was just inside the main gate in the left field corner, where a playground is located.
Among other highlights during his evening at Fluor Field, Walker attempted to perform a maintenance check on a fire extinguisher, pressed some buttons on an out of order ATM machine, and jumped in any puddle he could find. Given that it had rained earlier in the day in Greenville, numerous puddles provided ample splashing opportunities, with the misting machine making them easily accessible in a consistent spot.
Also, Walker likes to dance and people like to watch a little guy dance, which many standing down the left field line got to see him do during a Vengaboys song.
Fluor Field seats a little over 5K and we probably footed a 5K within its confines over the 7 innings we were there, visiting everywhere except for the suites and press box.
One spot within the 5,700-person capacity stadium worth seeing for more mature baseball fans is Heritage Plaza, which is the open space between the first base gate and the staircase that leads to the concourse one story above. On the brick walls of the plaza are plaques that recall those from the area (like Jim Rice from nearby Anderson) and players who were groomed there (a 19-year old Nolan Ryan was 17-2 for the 1966 Greenville Mets).
The biggest display within Heritage Plaza is reserved for Greenville's most notable and notorious one-time resident: "Shoeless" Joe Jackson. Furthermore, the house in which Jackson lived and died is across the street from the plaza and now serves as a museum dedicated to the most famous of the infamous 1919 Black Sox.
Kind of shoeless himself, Walker strode through the plaza in his sandals to see the speed pitch booth there, before speeding away to make a 5-minute pit stop in our assigned seating section, which happened to coincide with a not really needed 7th inning stretch.
Fired up by standing up, it was time to move again, this time to the plateaued picnic area behind the bleacher seats. It was from there, looking down into the grounds crew staging area below, that by accident Walker got his first up close look at a ballplayer, as Greenville's starting pitcher, Francellis Montas, was walking amongst all the interesting things in the area that inspired "what's that?" questions.
Montas, still wearing his game uniform, was talking on his cell phone after having pitched 7 solid innings in what would be a losing effort. His presence, of course, wasn't as fascinating as the green hoses and John Deere carts were.
As a father of two I can attest taking one's son or daughter to their first game is much easier to do when they either, A) aren't able to yet walk, or B) are a couple years past having mastered walking.
Walker's brother saw his first game at 8-months young, when he was not yet able to roam around, and Fluor Field was the second ballpark Zachary had been to, by which time enough had passed that he was a fairly well-grounded fan, with 56½ months of life experience. Essentially, he was easy to corral for his first ballpark visit and then mature enough to be self-contained by the time of his second (although that was probably thanks to the two older cousins he sat with).
As parents of a young'un know, there's a period when going out to eat isn't an easy thing to do. Walker's at that age, when sitting still is a short-term option, and so a trip to the ballpark could have been comparable to going to a restaurant, and likely would have been, if the structure in Greenville's West End neighborhood had been conceived of and constructed prior to roughly 1993.
Fortunately, from 1993 forward, ballparks have become much more fan-friendly, as advances in design and added amenities have made them more appealing to all-comers, especially families.
And Fluor Field is a prime example of the familication of the ballpark and its corresponding experience.
Besides the aforementioned areas enjoyed by Walker, Fluor Field features a grassy incline down the left field line and the concourse that runs from foul pole to foul pole is an open one, meaning you can watch the game from wherever you happen to be when not in your seats. Or at least catch glimpses of it when chasing your toddler or helping him down the slide.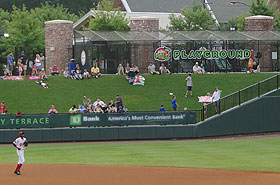 Some of the fan-friendliness at Fluor Field -- its berm and playground -- is seen here
Of course, placing the playground by the main entrance didn't happen by happenstance and it's no coincidence that there's an ice cream stand near the playground's entrance. Ditto for the placement of the team store near there, which is one of the first things you see when walking in, it's location accentuated by the brightly colored animal stuffing machine that didn't go unnoticed by Walker, and likely many others of his generation.
Catering to families and capturing the attention of kids is the reason why mascots matter at this level, why playgrounds near the field are as important as players on the field, and why promotions prompt some in the crowd to show up and keep others around until the game ends and the other show (fireworks) begins.
Basically, ballparks of today aren't too much like the ballparks of a generation ago, and because of that more Walkers and accompanying families spend more time in them than ever before.
And make no mistake, ballparks like Fluor Field are why teams like the Greenville Drive have become so successful. In 2012, the average crowd for a Drive game was 5,104, which equaled a season total of 347,042. That's no small number or feat, given that for 20 years Greenville was home to the Atlanta Braves' Double-A team, the aptly named Greenville Braves, who played in a bigger stadium a little ways outside of the city and topped out at 269,525 fans for a season (in 1998).
The Greenville Drive are two levels below the old G-Braves in the pro baseball ladder and their ballpark holds about 1,300 people less than the still-standing Municipal Stadium does. The Drive also don't have the benefit of being connected to the nearby big league team – Atlanta's Turner Field is only a 146-mile drive from the Drive's field – as Greenville is affiliated with the Red Sox, which is why Fluor Field in many ways mimics Boston's Fenway Park, most obviously with its own Green Monster in left field.
So that the Drive are more popular than the Braves were in Greenville seemingly defies logic, or at least conventional wisdom. But when you build a fan-friendly by design ballpark in a fun place and focus on "fan outreach" efforts people really do flock to it.
That's certainly a far cry from the even older than Greenville Braves days, when it was mostly hardcore baseball fans in the stands.
I can use a Greenville-Red Sox example to illustrate, as the Drive aren't the first Greenville team to be connected with the Boston Red Sox. Before the city's Meadowbrook Park burned down in 1972, the Greenville Red Sox played in the Western Carolinas League for five seasons. In the last one, 1971, the team drew a mere 41,402 fans for a full season's worth of games.
While some traditionalists may decry their advent, the modern ballpark has become the place to be or be seen and Fluor Field is a case study of why cities seemingly fall over themselves to build such a "plant," as ballparks were long ago called, for a private business, as almost all minor league teams are.
Although the usual scenario doesn't fully apply to Greenville, since the team's owners paid for the ballpark's $15 million cost (with a $7 million assist from the local government for infrastructure improvements), local municipalities often foot the whole cost of construction in hopes of having an anchor to improve an area, which is what has happened to Greenville's formerly dilapidated West End since 2006, when the ballpark opened there as West End Field.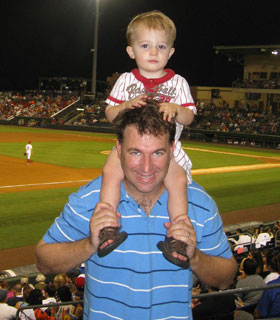 Walker with Daddy near the end of his ballpark debut in Greenville, South Carolina
From forlorn to filled with destinations to eat, drink and be happy, Fluor Field is now surrounded with places that didn't exist before it did, a prime example of which is the office and condominium complex behind the ballpark's Green Monster.
It all adds up to increased property values and corresponding revenue from taxes, with families like ours helping to play a small part, as the bill for dining at Mac's, which opened in 2012, included $2.40 in sales tax. It's also worth noting that the restaurant had a 20-minute wait at 6:30 but was half-empty by 7:15, meaning that the ballpark did its job in drawing folks into the area for more than just a ballgame.
As for the Legends-Drive ballgame on July 20, 2013, attendance for it would've been exactly 5,000 had we not attended. Our party of eight meant that the crowd count for the night was 5,008, and six in our group remained fairly stationary until the end, when we were all gathered atop the berm as Greenville loaded the bases with two outs in the bottom of the 9th while trailing by three runs.
A grand slam would've won it for the home team, but a guy hitting .204 with 0 home runs in 195 at-bats grounded into a force out to end the game and our evening within the ballpark, which we exited at 9:39 p.m. and before Lexington had much time to celebrate their 4-1 victory [box score].
Had the game been played on a bigger stage, surely a pinch hitter would've been called upon with the outcome on the line. Someone with some pop, or at least a better average. But that's not how it works in minor league baseball.
The minors, after all, are all about development. Ditto, oftentimes, for in the stands, not that Walker sat in them much. But he had his adventurous night out and I got my memories of the evening.
And that, folks, is what going to the ballpark is all about.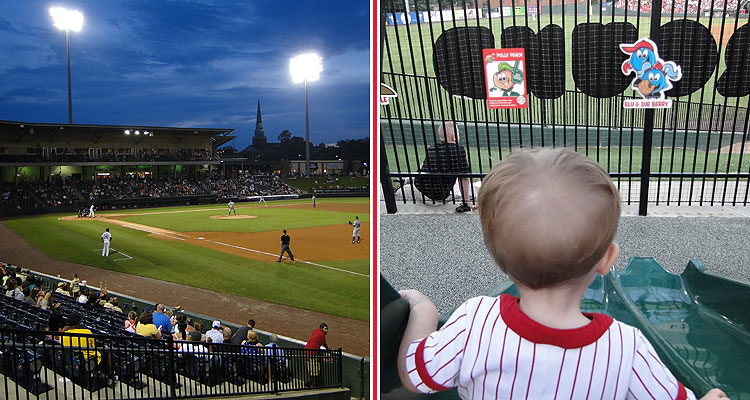 The view from where our seats were at Fluor Field versus the one Walker most often preferred while seeing his first game there.